Assignment: Leadership Styles Reflection Essay
Assignment Leadership Styles Reflection Essay
Formulating a high quality and performance-oriented nursing team is now the desire of majority of healthcare facilities. Nurse leaders are making efforts to ensure that they maintain a committed and motivated workforce that will aim at going beyond the basic requirements of their work (Fischer, 2016).  It is worth mentioning that the success of any employee is based on their efforts and the influence of their leader (Nguyen, Mia, Winata & Chong, 2017). Therefore, any emerging nurse leader should develop the basic principles of the transformational leadership style. This paper will focus on the assessment of my personality, cultural competence and emotional intelligence as well as discuss the transformational leadership styles.
Assessment Summary and Results
I selected the tests of emotional intelligence, personality and cultural competence to find out about myself and the abilities I have in relating with people that are not like me or whom I have differences with both emotionally, culturally and in terms of personality.  In relation to the emotional intelligence test, I scored 70% which means that I am reasonably skilled in reference to my core capacity to identify, perceive and express emotions. However, I believe that I can improve my emotional intelligence in order to perceive, identify and express myself to my patients and members of my healthcare team.  Despite having a high score in relation to the cultural competence, I have a problem of assuming that people of who do not communicate in the language of the dominant culture cannot express themselves fully, which means there is need for them to learn the language.  Consequently, when communicating to clients I will try as much as possible to use language interpreters who are well versed with the language of the local population.  In relation to personality assessment I realized that I am not neither exclusively an introvert nor a perfect extrovert.
Leadership Style that Closely Aligns to My philosophy of Care
The most appealing style of leadership to me is the transformational leadership style. I prefer it to such styles as autocratic and transactional since it focuses on improving the perception of people on the essence of work as well as the activities carried out in an organization. In this manner, people will effectively take part in the cause of the organization and work towards attaining both the common and individual goals (Echevarria, Patterson & Krouse, 2017). The style makes it possible for a leader to identify the needs of other employees and help them build their moral profile while following a certain set of ethics and skills (Fischer, 2016). The most recent studies show that organizations that empower their transformational leaders increase the job satisfaction of the healthcare team which translates to a high quality of healthcare delivery.
On top of that, healthcare organizations are faced with a broad spectrum of challenges with the major one being transforming the manner in which patients receive high quality of care that is "pocket-friendly at the same time. It is worth noting that having on board those who offer hands-on care is an essential part of this paradigm shift.  Transformational leadership unlike the transactional one that punishes mistakes, views errors as learning opportunities (Fischer, 2016). It also encourages innovation which collectively ensure that workers contribute significantly towards the improvement of care delivery to the patients (Echevarria, Patterson & Krouse, 2017). Consequently, transformational leadership has the capacity to revitalize from the point of care. Notably, transformational leadership style ensures low turnover rates of the nurses which is key to the provision of high quality of care to the patients.
Incorporating Leadership Style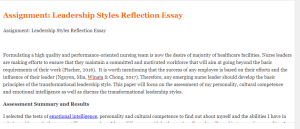 I believe that any professional nurse leader should be equipped with transformational leadership skills in order to foster the much-needed changes in a bid to lead the rest of the healthcare team.  I will implement the transformational leadership through setting goals that are aimed at enhancing customer service, come up with initiatives and track development through the use of a patient surveys in which case I will ensure the members of my team are fully engaged (Fischer, 2016).  I will hold a staff meeting and ensure that everybody attends in which I will communicate to them our goal of improving customer satisfaction and explain to the them that the quality of care has dropped as evidenced by the significant number of complaints (Fischer, 2016). I will be more specific to them about the major complains of patients such taking too long to respond to patient's press of the call light.
I will then have a conversation with them to find ways of reducing the response time when the call light is pressed which will be
key in enhancing customer satisfaction. I will also encourage my colleagues to air their views and put into consideration their concerns such as burnout and fatigue after long working hours (Cheng, Bartram, Karimi & Leggat, 2016). I will interact with them with high regard and decorum and I will ensure to be positive throughout the brainstorming session (Fischer, 2016). Once as a group we develop a goal and an initiative, I will then choose to pilot it. Going by the example of improving the quality of care the group might suggest to have the nurses spread out in the entire facility rather than having them assembled at the office which will shorten the response time (Cheng, Bartram, Karimi & Leggat, 2016). The initiative will be a success if the number of patient complaints drops after a couple of weeks or months. I will then call a follow up meeting to discuss the outcomes of the initiative to find out what might have worked out and what went against the expectations.
Areas for Improvement
.
In order to become the best transformational nurse leader which will bring positive changes to the future of nursing, I need to focus on increasing my nature of being extroverted. I need to carry out my duties without waiting for other people's approval or validation. Additionally, I need to walk the talk by leading as an example of other members of the healthcare team. On top of that, I need to be more intuitive but make decisions that are evidence based.
Conclusion
Cultural competence, emotional intelligence and development of a good personality will be key in fostering my nursing leadership skills. The transformational style of leadership plays an essential role in reducing nurses' turnover rates through enhancing their job satisfaction.  The staff is motivated to make major contributions which improves their workplace which translates to leaders reaching their departmental goals. Consequently, in the ever-evolving world of healthcare transformational leadership is part and parcel of modern healthcare delivery.
This assignment focuses on the importance of self-assessment and reflection.
Self-Assessment
Self-awareness is essential for developing leadership skills. Recognizing your own strengths, weaknesses, and values, and understanding emotional intelligence and learning styles can help you to be a more effective nurse leader.
For this assignment, you have the opportunity to take a variety of self-assessments to learn more about yourself and identify your assets and weaknesses as a leader. This will assist you in discovering how you can improve your own self-leadership skills. You will be asked to think critically about your results and submit a reflection as directed below.
Select three of the following self-assessments and complete them. Be sure to document the results of each assessment to assist you in completing the reflection portion of the assignment below.
1.Emotional Intelligence Assessment: \"Emotional Intelligence Test\": ttps://www.psychologytoday.com/us/tests/personality/emotional-intelligence-test
2.Personality Assessment: \"Free Personality Test\": https://www.16personalities.com/free-personality-test
3.Learning Styles Assessment: \"Values Profile\": http://vark-learn.com/the-vark-questionnaire/
4.Values Assessment: \"Values Profile\": https://www.psychologytoday.com/us/tests/personality/values-profile
5.Values Assessment: \"Rokeach Values Survey\": http://faculty.wwu.edu/tyrank/Rokeach%20Value%20Survey.pdf
6.Diversity Assessment: \"Cultural Competence Self-Test\": https://www.oregon.gov/DHS/SENIORS-DISABILITIES/DD/PROVIDERS-PARTNERS/SCPAconference/Cultural%20Competence%20Self-Test.pdf
Self-Assessment Reflection
Becoming self-aware is an ongoing process requiring introspection. The more often people practice self-reflection, the more opportunities they have to understand their own behaviors and adapt their approaches to working with other people, which can improve both your own and other\'s abilities to meet their professional goals.
In a 750-1,000 word reflective essay, address the following:
1.Briefly summarize why you selected each self-assessment and the results you obtained on each assessment.
2.Identify the leadership style that closely aligns to your philosophy of care, and explain what appeals to you about that style.
3.Reflect on how you might incorporate elements of that particular style as you exercise leadership in a practice or health care organization setting.
4.Discuss any particular areas for improvement the assessments helped you identify and some steps for improving your leadership capabilities.
You are required to cite three to five sources to complete this assignment. Sources must be published within the last 5 years and appropriate for the assignment criteria and nursing content.
Prepare this assignment according to the guidelines found in the APA Style Guide, located in the Student Success Center. An abstract is not required.
This assignment uses a rubric. Please review the rubric prior to beginning the assignment to become familiar with the expectations for successful completion.
You are required to submit this assignment to LopesWrite. Refer to the LopesWrite Technical Support articles for assistance.