Assignment Health and Medicine Essay
Mostly, health connotes mental, physical, and social wellbeing. However, in the sociological perspective, this definition does not capture the fact that health and disease could be construed socially and that if health can be defined positively then it would turn into a positive experience too.  In the sociology of health, the major focus is on the examination of the interaction between society and health (Collyer and Scambler, 2015). The objective of defining health in sociological view is to observe how social life affects mortality rate and morbidity. Often, health or lack of it is attributed to natural conditions and biological factors.  However, in sociology health entails social epidemiology, mental health, medicalization, disability, and disease.  Therefore, health entails more than just biological or medical occurrence.  Sociologists argue that spread of disease is significantly influenced by different factors such as cultural factors, individual socio-economic status, and ethnic traditions or beliefs. As such, sociology perceives, organizes, and act upon health in economic, institutional, political, and cultural context (Collyer and Scambler, 2015). Besides, health is continuously evolving and as people learn how to manage existing disease, new ones develop.
On the other hand, the medical sociology focuses on how health and illness are construed socially. This construction is shaped by numerous components of social order which are separate from biomedical occurrences. Therefore, medical sociology potentially integrates and creates sense of various depictions of illness and health including institutional structures, social epidemiology of disease and death, professional practice, social policy, personal health experience, and health economics and financing (Cockerham, (ed), 2012). However, the major concern the sociology of medicine is mostly limited to the relationship between patient and practitioner and the responsibility of the health professionals in the society.
It is, therefore, evident that in sociology being healthy is subjective and varies among cultures and is always associated with increase in technology and social patterns of race, sexual disparities, gender, and class. For instance, some societies would associate fatness with good health and indication of an individual with sufficient food. However, other cultures would regard such person as unhealthy. Besides, advancement in technology has also created new perspectives of being healthy. The technology used in a given society plays a major role in shaping the health of people in significant ways. Similarly, the social inequality in the distribution of advanced technologies in different societies also creates health disparities. For instance, in the global survey, the health in low-income nations that experience poor technological advancement are mostly characterized by short life expectancy, high children deaths before reaching their teens, and poor sanitation, hunger, unclean water supply, inadequate health staff, thus, poor health outcomes. However, in technological advanced high-income nations, there are excellent health outcomes with rate of deaths emanating from infectious diseases sharply dropped since the beginning of the 20th century. However, the chronic diseases are still a major problem that causes many deaths, especially among the elderly. Particularly, health in the United States is mostly good based on the global standards. Many resources are allocated on an individual care compared to other high-income countries.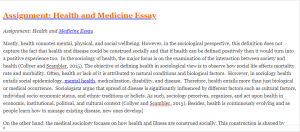 Other social determinants of health in many societies include age and gender and social class and race. For instance, in age and gender, young people experience rare death while women does well than men in the entire lifespan. Besides, men are naturally individualistic and aggressive making them to have high incidences of violence, accidents, and suicide. Concerning social class and race, better income and wealth advances health through better nutrition, health care, safe and stress surroundings. On the other hand, infant mortality is relatively higher among children from economically disadvantaged backgrounds compared to children from privileged families. In US, the poor face similar vulnerabilities to diseases as the ones from low-income nations.
Sociologists have shown that access, use, practice, and education concerning health and wellbeing are enormously influenced by existing cultural customs, patterns, and beliefs that usually have little or lack of relationship with physiological death. Therefore,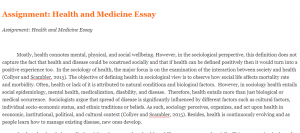 sociological aspects are likely to present while considering dealing with health related issues such as cigarette smoking, eating disorders, obesity, and sexually transmitted diseases. On the other hand, disparities in health care access tend to cause social inequalities in wellbeing. In particular, the disparities in access to health are attributed to different payment systems for medical care that exist indifferent nations and cultures. As such, it is imperative to understand the values and customs that guide health reforms (Annandale, 2013).  Consequently, while planning for reforms in health system, it is important to have knowledge in health sociology to be able to get the concept of the informal and amorphous socio-cultural practices that may facilitate or impede the cross-sectional integration. Besides, away from the perspective of informal and amorphous socio-cultural practices, it is also critical to have a grasp of different socialization patterns and power structures that can be manifested.
Another area that is closely linked to health I sociology is death. Essentially, death is an irreversible state that is characterized by lack of response to stimulation, absence of breathing and movement, no show of brain activity, and no reflexes. In America, thousands of people are in a vegetative state. As such, many adults have indicated their support for allowing the terminally ill patients the right to decide whether or not to undergo assisted death. The assisted death connotes mercy killing that is characterized by euthanasia which involves helping the patients suffering from painful incurable diseases to die a painless death. It also involves active euthanasia which is authorizing a physician to help a patient die.
Regarding the theoretical perspectives, sociologists may understand the issues of health and medicine through consideration of different theoretical perspectives. First, the functionalist theoretical perspective which considers health and medicine to the bigger societal picture and focus on how every aspect of society are fundamental to the consistent health and viability of the entire society. On the other hand, the conflict perspective is concerned with the creation and reproduction of inequality. Utilization of this theory may focus on disparities within the health system such as ethnicity, race, age, and gender. The interactionist theoretical perspective on its side focuses on how individuals recognize their health and how their health impacts their association with those who are around them.
In conclusion, the understanding and crucial perception of health and medicine in sociology are vital for healthcare professionals and policy makers in healthcare because they detail the relationship and causal links of health and disease to social, societal, and behavioral aspects.