Assignment: Generativity Reflection Essay
Assignment Generativity Reflection Essay
I had a great presentation on the theory of generativity, and I feel that it was quite informative to my audience. The presentation was well-organized, and I logically presented my ideas to ensure my audience would understand every concept. The content was adequate specifically on the definition, theories of generativity, and gender roles. Besides, I posted questions at the end of the presentation to help my audience evaluate what they have learned. The questions also aimed to influence them to assess their level of generativity and how they can improve their score. Nevertheless, I feel that I should have provided more content and specific examples of how personality contributes to generativity.
I administered a survey form to my audience after the presentation to evaluate my performance. Six members completed the survey form, and all members reported that they understood what generativity is and the theories behind it. Besides, they understood how gender roles contribute to generativity, but two members did not understand the contribution of personality to generativity entirely. Furthermore, all members who filled the survey form understood how to increase their generativity and that the presentation was clear and well organized.
The audience posted some questions after the presentation, enquiring further clarification on how the personality traits are associated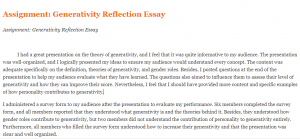 with the level of generativity. The audience also enquired on the statements on the Loyola Generativity Scale that seldom or never applies to me. I was comfortable answering all the questions by trying to provide examples of how each personality trait may contribute to the level of generativity. I was also comfortable replying to the statements on the LGS that I scored 0 or 1 and explained to them why those statements rarely apply to me.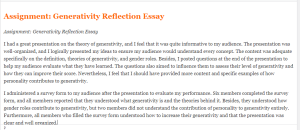 I had a great experience presenting to my colleagues, and it was fascinating completing the LGS questions. I learned that I am committed to positively impacting my society by taking part in voluntary activities that will help people in my neighborhood. Henceforth, I will try to come up with innovative ideas that can help solve problems in society. I will further be passing my knowledge and skills to future generations to promote continuity. I learned from my colleagues' presentations that the environment we are bought up in influences generativity in middle adulthood. An individual will try to improve the neighborhood he or she was brought in to make it better for future generations. This is evidenced by adults who come up with projects to improve the neighborhoods they grew in, such as developing schools, roads, and helping children from low-income families. They come up with the projects to leave a mark and also make the society a conducive place to live in better than how they found it.