Assignment: Emerging Technologies in Health Essay
Assignment Emerging Technologies in Health Essay
Speed in prompt care depends on quality of care leveraged on personnel and medical products. Today, the American health care systems grapples with incidences of medical errors which results in deaths of patients. More than 250,000 patients die from medical errors annually in America alone (Beane, 2018). The incidences are related to wrong prescriptions as well as inaccurate medical procedures. Surgeries are among the medical therapies which physicians and care providers administer to offer relief to patients. Successful surgical procure is an art based on skills and precision. The anatomic representation of human is unique and surgeons performing incisions may falter in accuracy.
Clinical Problem: Tissue trauma from surgical procedures
The processes entail incisions of blood vessels embedded on body tissues which results intense pain. The procedures require use anesthesia but this depends on frequency and severity of the infection. Patients may also be sedated by opium therapies as a remedy to intense pain. Surgical procedures demand accurate anatomical knowledge by the physician but errors have often been noted and this impairs prognosis. The incidences of medical problems in a surgical site are more than the injury related to surgical cases (Pagliarini & Lund, 2017).  Surgical sites may also be subjected to bacterial infections and other wound sepsis. Incisions of wrong sites can lead to profuse bleeding which can affect the physiological state of the patient. Surgeries include operative procedures such as amputations of the extremities, removal of objects in body surfaces and excision of tumors in body tissues.Wrong-site, wrong-procedure and wrong patient are major errors associated with surgeries (Mittal & Gopinath, 2014).
It is the mandate of the surgical subspecialties in care facilities to develop training guidelines on surgical procedures. Redundant systems in hospitals must be put in place to decrease patient errors related to surgeries. In adequate financial resources can lead to use of old techniques in surgical operations in a health facility. Latest surgical tools are expensive. Facilities operating on tight budget cuts maintains the old and inefficient tools. Surgery may result in readmissions to a care facility and often leads to increase in length of stay in these facilities.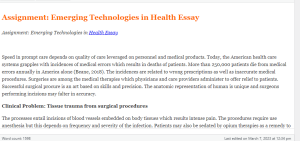 Technology: Robotic Surgery
Ever since the discovery that surgical approaches can correct certain ailments, various tools have been advanced. Surgical techniques have been developed to improve surgery operations and also develop safer approaches intended to improve patient care (Beane, 2018). One of these methods in development has seen the use of robotic surgery and laparoscopy for the correction of certain maladies. The procedures takes relatively short period of time, and allows patients and surgeons to realize improvements in care. The method focuses on the use of smart instruments with intent to reduce training required by surgeons. Robotic surgical machines have been tested to affirm their effectiveness. Since inception, the systems have been experimented on adults and children. Experiments such as the robotic pediatric neurogenic bladder were performed in a 10 year old girl in 2008. Further advancement in technology has led to the innovation of robotic systems such as the da-Vinci robotic surgical system in 5th January 2009. The appliance is considered one of the latest technological advancement and it has been used for operations in oncology and gynecology as from 25th January 2009.
Applicable theory for the selected Technology
Robotic surgery should have the greatest benefit to high number of people within the society. Human factor theory by Dr. Russell Ferrell is used in this selected technology. The benefits in the adoption of the approach should supersede the risk of outcomes. This theory states that accidents are the result of a casual chain, one or more of the causes being human error, which is in turn caused by three situations – overload, incompatibility and improper activities (Randel et al., 2015). Considerably, the aspect of robotic surgery should embrace the concept of time and availability. Robotic surgery should take the shortest time possible compared to the open surgery. Besides, the machines for the surgery should be readily available and the costs affordable to the patients (Randel et al., 2015). The benefits for the adoption of the approach should have minimal or limited pain to patients compared to the traditional open surgery.
How the Technology Assist in Resolving the Clinical Problem
In the operating room (OR), correct placement of surgical instruments is key to ensure precision in the procedure. Robotic surgical systems have articulating robotic arms which surgeons use to perform medical procedures (García-Sánchez et al., 2017). Use of high definition cameras enable surgeons to have close view of areas that they are not able to see in an open surgical procedure. This ensures accuracy in the management of infections or incisions. da Vinci Surgical System offer 3-Dimensional view of the operating field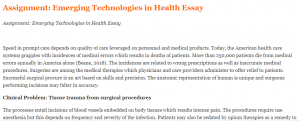 together with real depth perception and a stationary camera which is directly controlled by operating surgeon and not an assistant. The robotic system has three cable-driven working arms that is readily available for exposure as well as traction and thus allows seven degrees of freedom when compared to the dexterity of human hand (Mittal & Gopinath, 2014). Hence, the system offers precision during operation as well as tremor filtration together with a comfortable and ergonomic position during the entire period of surgery. Its effectiveness has seen the adoption of the system in laparoscopy, urology and prostatectomy procedures. Moreover, the technique has been used in pediatric, thoracoscopy, gynecology, cardiotomy and revascularization procedures.
Strengths of Robotic Surgery
Social impacts on the use of surgical robots incline to their effectiveness in improving accuracy compared to the open surgical operations. In turn, the complications, as well as pain associated with surgery, are remarkably reduced. The robotic-assisted surgery utilizes smaller incisions hence operations are significantly safer due to less blood loss, less scary to patients as well as reduced risk of infection when compared to open surgery (Pagliarini & Lund, 2017). However, the duration of the hospital stays as well reduced as the instances of prolonged pain are minimized by use of these technological breakthroughs in surgical operations.
Weakness of Robotic Surgery
Use of robotic surgery comes with additional cost implications, especially to the health facilities. Purchasing and the cost of maintenance for the machines used in robotic surgery may be unbearable to the health facility (Pagliarini & Lund, 2017). The latest robotic surgery systems are estimated to be up to $ 1million with an approximately $100,000 cost of annual maintenance. This implies that not all health facilities in the world will be able to procure the technology (Randel et al., 2015). Notably, the facilities having the latest robotic surgery technology will undoubtedly, translate the cost to the patients and hence clients will incur additional expenses for the operations.
Assignment: Emerging Technologies in Health Essay Conclusion
Robotic surgery systems altering the intensity of pain related to traumas in acute and chronic injuries. This is due to a perceived reduction in pain as well as bleeding from complications arising from the use of the advanced system. The appliances can also be used to reduce incidences of misdiagnosis and intense suffering in patients. This leads to improved trust in health facilities, especially, those involving surgery. However, training of surgeons and clear operation protocols need to be established on the use of the robotic surgery systems.
From the electronic health record (EHR) to nanotechnology to 3-D printers and beyond, there are an increasing number of useful and innovative technologies being used in health care settings that have an important role in linking and organizing care and information. For this assignment, you will create a slide presentation to present to administrators and nurses providing direct patient care.
General Requirements:
Use the following information to ensure successful completion of the assignment:
This assignment uses a rubric. Please review the rubric prior to beginning the assignment to become familiar with the expectations for successful completion.
Doctoral learners are required to use APA style for their writing assignments. The APA Style Guide is located in the Student Success Center.
Use primary sources published within the last 5 years. Provide citations and references for all sources used.
You are required to submit this assignment to LopesWrite. Refer to the directions in the Student Success Center.
Directions:
Your presentation must include the following elements:
Identify and provide a brief description of a clinical problem.
Identify a technology that can improve patient outcomes for that clinical problem.
Select a theory to guide the presentation and discuss why this theory is applicable.
Address how the technology you have identified will assist in resolving the clinical problem.
Potential strengths and limitations of the technology selected.
Use PowerPoint to create your slide presentation. Your slide presentation must contain a title slide, 12-15 slides of content, and a References slide. Use evidence to support your claims. A minimum of five references using APA style must be used. Speaker\'s notes must be included for each individual slide (add a speaker notes section to demonstrate the verbal speech you would give along with each slide).
Presentation Tips:
Text slides are not meant to be read by the speaker, but by the audience. Lettering should generally be limited to four lines and should never be more than seven, including the title.
It is advisable not to use more than eight words per line.
Avoid too much detail and resist the temptation to overload the presentation with information.
Avoid jargon and abbreviations, unless they are clear to all the audience.
Aim at the average person in the audience.
Use plain English
For assignments that need to be submitted to Lopes Write, please be sure you have received your report and Similarity Index (SI) percentage BEFORE you do a "final submit" to me.
Once you have received your report, please review it. This report will show you grammatical, punctuation, and spelling errors that can easily be fixed. Take the extra few minutes to review instead of getting counted off for these mistakes.
Review your similarities. Did you forget to cite something? Did you not paraphrase well enough? Is your paper made up of someone else's thoughts more than your own?
Visit the Writing Center in the Student Success Center, under the Resources tab in LoudCloud for tips on improving your paper and SI score.
Late Policy
The university's policy on late assignments is 10% penalty PER DAY LATE. This also applies to late DQ replies.
Please communicate with me if you anticipate having to submit an assignment late. I am happy to be flexible, with advance notice. We may be able to work out an extension based on extenuating circumstances.
If you do not communicate with me before submitting an assignment late, the GCU late policy will be in effect.
I do not accept assignments that are two or more weeks late unless we have worked out an extension.
As per policy, no assignments are accepted after the last day of class. Any assignment submitted after midnight on the last day of class will not be accepted for grading.
Communication
Communication is so very important. There are multiple ways to communicate with me:
Questions to Instructor Forum: This is a great place to ask course content or assignment questions. If you have a question, there is a good chance one of your peers does as well. This is a public forum for the class.
Individual Forum: This is a private forum to ask me questions or send me messages. This will be checked at least once every 24 hours.
Important information for writing discussion questions and participation
Welcome to class
Hello class and welcome to the class and I will be your instructor for this course. This is a -week course and requires a lot of time commitment, organization, and a high level of dedication. Please use the class syllabus to guide you through all the assignments required for the course. I have also attached the classroom policies to this announcement to know your expectations for this course. Please review this document carefully and ask me any questions if you do. You could email me at any time or send me a message via the "message" icon in halo if you need to contact me. I check my email regularly, so you should get a response within 24 hours. If you have not heard from me within 24 hours and need to contact me urgently, please send a follow up text to
I strongly encourage that you do not wait until the very last minute to complete your assignments. Your assignments in weeks 4 and 5 require early planning as you would need to present a teaching plan and interview a community health provider. I advise you look at the requirements for these assignments at the beginning of the course and plan accordingly. I have posted the YouTube link that explains all the class assignments in detail. It is required that you watch this 32-minute video as the assignments from week 3 through 5 require that you follow the instructions to the letter to succeed. Failure to complete these assignments according to instructions might lead to a zero. After watching the video, please schedule a one-on-one with me to discuss your topic for your project by the second week of class. Use this link to schedule a 15-minute session. Please, call me at the time of your appointment on my number. Please note that I will NOT call you.
Please, be advised I do NOT accept any assignments by email. If you are having technical issues with uploading an assignment, contact the technical department and inform me of the issue. If you have any issues that would prevent you from getting your assignments to me by the deadline, please inform me to request a possible extension. Note that working fulltime or overtime is no excuse for late assignments. There is a 5%-point deduction for every day your assignment is late. This only applies to approved extensions. Late assignments will not be accepted.
If you think you would be needing accommodations due to any reasons, please contact the appropriate department to request accommodations.
Plagiarism is highly prohibited. Please ensure you are citing your sources correctly using APA 7th edition. All assignments including discussion posts should be formatted in APA with the appropriate spacing, font, margin, and indents. Any papers not well formatted would be returned back to you, hence, I advise you review APA formatting style. I have attached a sample paper in APA format and will also post sample discussion responses in subsequent announcements.
Your initial discussion post should be a minimum of 200 words and response posts should be a minimum of 150 words. Be advised that I grade based on quality and not necessarily the number of words you post. A minimum of TWO references should be used for your initial post. For your response post, you do not need references as personal experiences would count as response posts. If you however cite anything from the literature for your response post, it is required that you cite your reference. You should include a minimum of THREE references for papers in this course. Please note that references should be no more than 5 years old except recommended as a resource for the class. Furthermore, for each discussion board question, you need ONE initial substantive response and TWO substantive responses to either your classmates or your instructor for a total of THREE responses. There are TWO discussion questions each week, hence, you need a total minimum of SIX discussion posts for each week. I usually post a discussion question each week. You could also respond to these as it would count towards your required SIX discussion posts for the week.
I understand this is a lot of information to cover in 5 weeks, however, the Bible says in Philippians 4:13 that we can do all things through Christ that strengthens us. Even in times like this, we are encouraged by God's word that we have that ability in us to succeed with His strength. I pray that each and every one of you receives strength for this course and life generally as we navigate through this pandemic that is shaking our world today. Relax and enjoy the course!
Hi Class,
Please read through the following information on writing a Discussion question response and participation posts.
Contact me if you have any questions.
Important information on Writing a Discussion Question
Your response needs to be a minimum of 150 words (not including your list of references)
There needs to be at least TWO references with ONE being a peer reviewed professional journal article.
Include in-text citations in your response
Do not include quotes—instead summarize and paraphrase the information
Follow APA-7th edition
Points will be deducted if the above is not followed
Participation –replies to your classmates or instructor
A minimum of 6 responses per week, on at least 3 days of the week.
Each response needs at least ONE reference with citations—best if it is a peer reviewed journal article
Each response needs to be at least 75 words in length (does not include your list of references)
Responses need to be substantive by bringing information to the discussion or further enhance the discussion. Responses of "I agree" or "great post" does not count for the word count.
Follow APA 7th edition
Points will be deducted if the above is not followed
Remember to use and follow APA-7th edition for all weekly assignments, discussion questions, and participation points.
Here are some helpful links
The Writing Center is a great resource