Assignment: Descriptive Statistics Essay
Assignment Descriptive Statistics Essay
In data analysis, measures of central tendency are essential when it comes to the understanding of different attributes of the dataset (Weaver 17). In most cases, it reveals the characteristics of the study participants or respondents, their mean, mode, the median, maximum and minimum numbers. The following tables indicate the descriptive statistics for the National Cancer Institute 2018.
Table 1, 2, 3, 4, and 5 indicate the rate of cancer in the American Indian, Asian, Black, Hispanic and whites races per 100,000 people respectively. The black community has the highest rate of cancer infection, followed by whites, including Hispanics (Merola et al. 32). The Hispanic race has the lowest rate of cancer prevalence per 100, 000 people. The data was recorded for 16 successive years from the year 2000 to 2015. Among the American Indian participants, the highest rate per 100, 000 people was 51.7 while the lowest rate was 32; this was recorded in the year 2004 (Bilimoria et al. 13). On the other hand, for the Asian participants, the maximum rate was 41.8 while the minimum rate was 34 as recorded in the year 2000 and 2014, respectively. For the blacks, Hispanics and whites, the maximum rates of infections were 79, 35, and 68.8 respectively. The means rate for the American Indians, Asians, Blacks, Hispanics, and Whites who participated in the research was 43.275, 38.5125, 70.06875, 31.49375, and 62.725 respectively.
Table 6 indicates measures of variation for the National Cancer Institute of 2018. From the table, a high rate of variation was recorded
among the black race. In other words, the black participants had the highest rate of cancer infection per 100,000 people with high variation.  Data for the Asian/Pacific Islander showed the least variation with 5.6798. The variations represented the deviation from the means for the rate of cancer infection per 100, 000 people. The range for the American Indians, Asian, Blacks, Hispanics, and whites were recorded as 19.7, 7.8, 21.6, 9, and 15.6 respectively.
There is often the requirement to evaluate descriptive statistics for data within the organization or for health care information. Every year the National Cancer Institute collects and publishes data based on patient demographics. Understanding differences between the groups based upon the collected data often informs health care professionals towards research, treatment options, or patient education.
Using the data on the \"National Cancer Institute Data\" Excel spreadsheet, calculate the descriptive statistics indicated below for each of the Race/Ethnicity groups. Refer to your textbook and the Topic Materials, as needed, for assistance in with creating Excel formulas.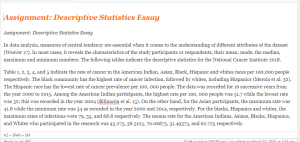 Provide the following descriptive statistics:
Measures of Central Tendency: Mean, Median, and Mode
Measures of Variation: Variance, Standard Deviation, and Range (a formula is not needed for Range).
Once the data is calculated, provide a 150-250 word analysis of the descriptive statistics on the spreadsheet. This should include differences and health outcomes between groups.