Assignment Clinical Nurse Specialist Essay
Q: What quality standards or performance measures guide your role or specialty as an advanced registered nurse? Using these standards, discuss how informatics can be used to improve the quality of care.
The quality standards or performance measures that guide my role as an advanced registered nurse are those that are included within the code of professional conduct and ethics for Clinical Nurse Specialists (CNSs), Registered Nurses (RNs) and Registered Midwives. As such, clinical nurse specialists are supposed to adhere to the individual state regulations which based on five principles meant to govern the duties undertaken by advanced practice registered nurses (Moss, Seifert & O'Sullivan, 2016). The aforementioned code of professional conduct and ethics works to ascertain that quality indicators are identified and the achievement benchmarks are monitored through the interest groups associated with Clinical Nurse Specialists.
Informatics plays a pivotal role in ensuring there is consistent improvement in the quality of care by laying the foundation that serves

to ascertain that patients are involved in the treatment options and plans endeared towards attaining the best medical intervention. In addition, informatics such as the American Health Information Management Association (AHIMA) and health information governance websites are keen to observe that patients are not only tended to by ready care providers but also treated using the most informed health intervention mechanisms.
However, the above-mentioned informatics objectives in as far as the improvement of the quality of care is concerned, can only be attained when the health care providers maintain electronic records regarding their patients, operate or perform interventions at the lowest costs possible, undertake minimal trials and errors when performing interventions, and lastly, find amicable ways through which they can equip their patients with the ability to self-manage in the event of an illness (Ravì et al., 2016). Notably as portrayed by the above-stated activities, informatics is not only widening the scope of quality care but also providing a setting in which coordination between the care providers is possible considering the key role it plays. Most importantly, the use of electronic medical records sets the pace for safe and quality care which, in turn, translates to decreased errors and better diagnoses thus improve outcomes.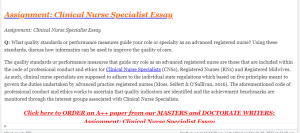 What quality standards or performance measures guide your role or specialty as an advanced registered nurse? Using these standards, discuss how informatics can be used to improve quality of care. Make sure to discuss meaningful use and incorporate the topic materials, such as the American Health Information Management Association (AHIMA) and Information Governance websites in your respons