Assignment: Capstone Project Milestone in Nursing
Assignment  Capstone Project Milestone in Nursing
Practice Issue and Evidence Summary Worksheets
Student Name: Date:
DIRECTIONS
1. Refer to the guidelines for specific details on how to complete this assignment.
2. Type your answers directly into the worksheets below.
3. Submit to the Dropbox by the end of Week 3, Sunday at 11:59 p.m. MT.
4. Post questions about this assignment to the Q & A Forum. You may also email questions to the instructor for a private response.
Practice Issue Worksheet
List the topic and include the citation for the systematic review you have selected from our approved list (optional: an additional scholarly source of support):
Health-Associated Infections (HAI)
Webster, J., & Osborne, S. (2015). Preoperative bathing or showering with skin antiseptics to prevent surgical site infection. Cochrane Database of Systematic Reviews 2015, Issue 2. Art. No.: CD004985. doi:10.1002/14651858.CD004985.pub5.
Chamberlain Library Permalink: https://www-cochranelibrary-com.chamberlainuniversity.idm.oclc.org/cdsr/doi/10.1002/14651858.CD004985.pub5
What is the nursing practice issue you have identified related to the topic you have chosen?
Working in the operating room, I interview patients daily for surgery. One thing that is new in our area is that patients are now using chlorhexidine bathing products 3 days straight prior to surgery. We have had a large amount of patients that have had a reaction and developed a rash using chlorhexidine bathing products. The patient have come in for surgery complaining about the itchy skin and rash. We have had many patients who also stated that they could not finish the three days because it bothered them so much. In surgery, we also use a 4% chlorhexidine solution as a prep solution for vaginal cases. Patients were complaining after they awoke from surgery, that they were extremely itchy in that area.
Fully describe the scope of the practice issue:
I believe that the cause of the irritation for patients' skin would be the strength of the chlorhexidine solution that they are using. Chlorhexidine solution is usually bottled at 4%. When adding saline to the solution and making the chlorhexidine a 2% solution, it has been shown to decrease the irritation that our patients are having with vaginal preps. I also am curious as to the need for the 3-day bathing regimen. I am wondering if we cut the amount of days that the patients use the chlorhexidine, if it will decrease the irritation and still lessen the likelihood that the patients will get a surgical site infection.
What is the practice area?
_X_ Clinical
___ Education
___ Administration
___ Other (List):
How was the practice issue identified? (check all that apply)
___ Safety/risk management concerns
_X_ Unsatisfactory patient outcomes
_X_ Wide variations in practice
___ Significant financial concerns
___ Difference between hospital and community practice
___ Clinical practice issue is a concern
___ Procedure or process is a time waster
___ Clinical practice issue has no scientific base
__ Other:
Describe the rationale for your checked selections:
The unsatisfactory patient outcomes was checked because the patients expressing their opinion was the reason that we noticed that there was an issue. The patients were complaining that they couldn't complete their pre-operative preparation regimen. We, as a hospital, have been looking at ways to lower surgical site infections and the surgeons found research suggesting the use of chlorhexidine bathing products would decrease the chance that a surgical site infection would occur. The wide variations in practice box was checked because every service area for surgery has different directions for the pre-operative cleansing regimen. Some services only use the chlorhexidine wipes, while others use the body wash and the wipes. I would like to find research with a definitive answer on what is best.
What evidence must be gathered? (check all that apply)
_X_ Literature search
___ Guidelines
___ Expert Opinion
_X_ Patient Preferences ___ Clinical Expertise
___ Financial Analysis
___ Standards (Regulatory, professional, community)
___ Other
Describe the rationale for your checked selections:
Finding research that shows what pre-operative regimen the patients should follow that best protects patients from obtaining a surgical site infection is a key component. The research literature obtained will also have the length of time patients should use the products along with the strength of the chlorhexidine solution. Since the patients are the ones that are actually using the products, I think it would also be best to question or poll patients as to which regimen is easier for them and which products or regimen caused the least amount of itchiness and irritation.
EVIDENCE SUMMARY WORKSHEET
Directions: Please type your answers directly into the worksheet.
Describe the practice problem in your own words with reference to the identified population, setting and magnitude of the problem in measurable terms:
The problem in practice is that chlorhexidine solutions are being used as part of a patients pre-operative preparation regimen, however there is a lack of consistency with its usage. There are also many patient complaints about the harshness reaction on the skin because of the length of usage. The population would include all elective surgical patients. The setting for the study would be in patients home or in the hospital, prior to surgery. The measurement of the problem would be conducted through surveys of patients, surgical site infection rate data, and amount of patients with reactions to pre-operative chlorhexidine regimen.
Type the complete APA reference for the systematic review article you chose from the list provided. It must be relevant to the practice issue you described above. Include the APA reference for any additional optional supplemental scholarly source related to the review you wish to use.
Webster, J., & Osborne, S. (2015, February 20). Preoperative bathing or showering with skin antiseptics to prevent surgical site infection. Retrieved from Cochrane Database of Systematic Reviews: http://onlinelibrary.wiley.com.proxy.chamberlain.edu:8080/doi/10.1002/14651858.CD004985.pub5/full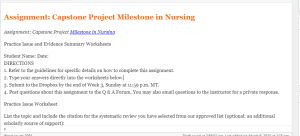 Identify the objectives of the article:
The objectives include locating evidence that supports the use of preoperative antiseptics in order to reduce the amount of surgical site infections. The authors are looking for evidence that suggests that chlorhexidine is better to use as a pre-operative scrub compared to other antiseptics or regular soap.
Provide a statement of the questions being addressed in the work and how these relate to your practice issue:
This systematic review is questioning whether or not the use of chlorhexidine bathing products prior to surgery will decrease the amount of surgical site infections that occur. This relates to my practice problem because this can help to identify that patients using chlorhexidine preparation bathing solutions will decrease the amount of surgical site infections.
Summarize (in your own words) the interventions the author(s) suggest to improve patient outcomes.
The author of this study used antiseptic bathing products in comparison to non-antiseptic soaps, solutions, and no shower/bath. This study conducted also considered other products to use other than chlorhexidine to determine whether or not antiseptic bathing products were the best practice in preparing for surgery. If indicated, the author suggests to further test exclusively chlorhexidine.
Summarize the main findings by the authors of your systematic review including the strength of evidence for each main outcome. Consider the relevance to your project proposal for the Milestone 2 project paper. (If an optional supplemental source is also used, include a statement of relevance to it as well.)
This author looked at studies that have been conducted over a twenty year period. This study concludes that the use of antiseptic products including 4% Chlorhexidine solutions are effective in helping to prevent surgical site infections. This study also looked at the amount of allergic reactions that patients have had using the 4% chlorhexidine in each study. Both of these statistics are very relevant to my research. This will help to support the fact that my facility has seen with reactions to the chlorhexidine solution. This research will also help to illustrate the fact that chlorhexidine bathing products help to prevent surgical site infections.
Outline evidence-based solutions that you will consider for your project.
Some things that I have learned from this systematic review is that their needs to be further research conducted with proper follow ups on all patients to determine that chlorhexidine solution is definitively best in protecting patients against surgical site infections. Another thing that can be concluded from this systematic review is that there are a large number of patients who have been shown to have a reaction to the chlorhexidine solutions. Most of the studies showed at least 5 out of every 1000 people using chlorhexidine had some kind of reaction. There was certainly a reduction in surgical site infection decrease when looking at patients that use chlorhexidine regimens preoperatively compared to patients that use regular soap and water.
Discuss any limitations to the studies that you believe impacts your ability to utilize the research in your project.
One of the limitations that was listed was the fact that most of the studies had no follow up on their participants. They only looked at the time that the patients were actually in the hospital for surgery until their first discharge from the facility. This can impact my
research because some of the studies that are looked at 20 years old. Many patients now days go home just a few hours following surgeries. Laparoscopic abdominal surgeries are very popular now-a days and are highly recommended compared to open procedures. This allows patients to generally recover at home instead of being in the hospital for days. Some patients in this research were not looked at following their quick procedure and therefore could have been missed if they were re-admitted for a surgical site infection. Another limitation that is discussed is the fact that only one of the studies that was looked at for research mentions the undesirable effects that patients receive from the use of Chlorhexidine solutions pre-operatively.
Review the feedback you received from your instructor for Milestone 1, and use it to develop this milestone.
Create a proposal for your Design for Change Capstone Project. Open the recommended assignment specific Milestone 2 Design Proposal Outline (Links to an external site.)Links to an external site.. Use this to write your paper. You will include the information from Milestone 1, your practice issue and evidence summary worksheets, as you compose this proposal. Your plan is to convince your management team of a practice problem you have uncovered that is significant enough to change current practice.
The format for this proposal will be a paper following the Publication manual of APA 6 th edition.
The paper is to be four- to six-pages excluding the Title page and Reference page.
As you organize your information and evidence, include the following topics.
Introduction: Write an introduction but do not use \"Introduction\" as a heading in accordance with the rules put forth in the Publication manual of the American Psychological Association (2010, p. 63). Introduce the reader to the plan with evidence-based problem identification and solution.
Change Model Overview: Overview of the ACE Star model (the model we have been discussing this session); define the scope of the EBP; identify the stakeholders, and determine the responsibility of the team members.
Evidence: Conduct internal and external searches of evidence; integrate and summarize the evidence summary worksheet from Milestone 1; develop a recommendation for change.
Translation: develop a hypothetical action plan; include measurable outcomes, reporting to stakeholders; identify next steps and disseminate the findings.
Conclusion: Provide a clear and concise summary, inclusive of the problem issue, the five points of the ACE Star change model; and ways to maintain the change plan.
Citations and References must be included to support the information within each topic area. Refer to the APA manual, Chapter 7, for examples of proper reference format. In-text citations are to be noted for all information contained in your paper that is not your original idea or thought. Ask yourself, \"How do I know this?\" and then cite the source. Scholarly sources are expected, which means using peer-reviewed journals and credible websites.
Tables and Figures may be added as appropriate to the project. They should be embedded within the body of the paper (see your APA manual for how to format and cite). Creating tables and figures offers visual aids to the reader and enhances understanding of your literature review and design for change.
Submit your paper by 11:59 p.m. MT by Sunday of the end of Week 4.
**Academic Integrity Reminder**
Chamberlain College of Nursing values honesty and integrity. All students should be aware of the Academic Integrity policy and follow it in all discussions and assignments.
By submitting this assignment, I pledge on my honor that all content contained is my own original work except as quoted and cited appropriately. I have not received any unauthorized assistance on this assignment.