NURS 8114 Components of Evidence-Based Practice
NURS 8114 Components of Evidence-Based Practice
In Module 3 you assembled the components and requirements for quality improvement that applies evidence-based practice. To formulate the practice that delivers the needed improvement, you have to uncover the base: the evidence.
That is a process all its own and the focus of Module 4. This module image implies a familiar symbol of thought and ideas, and in the 4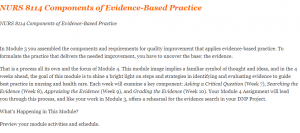 weeks ahead, the goal of this module is to shine a bright light on steps and strategies in identifying and evaluating evidence to guide best practice in nursing and health care. Each week will examine a key component: Asking a Critical Question (Week 7), Searching the Evidence (Week 8), Appraising the Evidence (Week 9), and Grading the Evidence (Week 10). Your Module 4 Assignment will lead you through this process, and like your work in Module 3, offers a rehearsal for the evidence search in your DNP Project.
What's Happening in This Module?
Preview your module activities and schedule.
| | |
| --- | --- |
| What do I have to do? | When do I have to do it? |
| Review your Learning Resources | Days 1–7, Weeks 7, 8, 9, and 10 |
| Week 7 Discussion: Framing a Practice Problem as a Critical Question With Measurable Outcomes | Post by Day 3 of Week 7, and respond to your colleagues by Day 6 of Week 7. |
| Week 8 Discussion: Search-Based Questions | Post by Day 3 of Week 8, and respond to your colleagues by Day 6 of Week 8. |
| Module 4 Assignment: Investigating a Critical Practice Question Through a Literature Review | You will begin your Assignment in Week 8 and submit by Day 7 of Week 10. |
| Week 10 Discussion: Clarifying Connections: Practice Problem, Evidence, Changing Practice | Post by Day 3 of Week 10, and respond to your colleagues by Day 6 of Week 10. |
Go to the Week's Content
Rubric Detail
Select Grid View or List View to change the rubric's layout.
Name: NURS_8114_Week7_Discussion_Rubric
 
Excellent

90%–100%

Good

80%–89%

Fair

70%–79%

Poor

0%–69%

Main Posting:

Response to the Discussion question is reflective with critical analysis and synthesis representative of knowledge gained from the course readings for the module and current credible sources.

40 (40%) – 44 (44%)

Thoroughly responds to the Discussion question(s).

Is reflective with critical analysis and synthesis representative of knowledge gained from the course readings for the module and current credible sources.

No less than 75% of post has exceptional depth and breadth.

Supported by at least three current credible sources.

35 (35%) – 39 (39%)

Responds to most of the Discussion question(s).

Is somewhat reflective with critical analysis and synthesis representative of knowledge gained from the course readings for the module.

50% of the post has exceptional depth and breadth.

Supported by at least three credible references.

31 (31%) – 34 (34%)

Responds to some of the Discussion question(s).

One to two criteria are not addressed or are superficially addressed.

Is somewhat lacking reflection and critical analysis and synthesis.

Somewhat represents knowledge gained from the course readings for the module.

Cited with fewer than two credible references.

0 (0%) – 30 (30%)

Does not respond to the Discussion question(s). Lacks depth or superficially addresses criteria.

Lacks reflection and critical analysis and synthesis.

Does not represent knowledge gained from the course readings for the module.

Contains only one or no credible references.

Main Posting:

Writing

6 (6%) – 6 (6%)

Written clearly and concisely.

Contains no grammatical or spelling errors.

Adheres to current APA manual writing rules and style.

5 (5%) – 5 (5%)

Written concisely.

May contain one to two grammatical or spelling errors.

Adheres to current APA manual writing rules and style.

4 (4%) – 4 (4%)

Written somewhat concisely.

May contain more than two spelling or grammatical errors.

Contains some APA formatting errors.

0 (0%) – 3 (3%)

Not written clearly or concisely.

Contains more than two spelling or grammatical errors.

Does not adhere to current APA manual writing rules and style.

Main Posting:

Timely and full participation

9 (9%) – 10 (10%)

Meets requirements for timely, full, and active participation.

Posts main Discussion by due date.

8 (8%) – 8 (8%)

Meets requirements for full participation.

Posts main Discussion by due date.

7 (7%) – 7 (7%)

Posts main Discussion by due date.

0 (0%) – 6 (6%)

Does not meet requirements for full participation.

Does not post main Discussion by due date.

First Response:

Post to colleague's main post that is reflective and justified with credible sources.

9 (9%) – 9 (9%)

Response exhibits critical thinking and application to practice settings.

Responds to questions posed by faculty.

The use of scholarly sources to support ideas demonstrates synthesis and understanding of learning objectives.

8 (8%) – 8 (8%)

Response has some depth and may exhibit critical thinking or application to practice setting.

7 (7%) – 7 (7%)

Response is on topic and may have some depth.

0 (0%) – 6 (6%)

Response may not be on topic and lacks depth.

First Response:
Writing
6 (6%) – 6 (6%)

Communication is professional and respectful to colleagues.

Response to faculty questions are fully answered, if posed.

Provides clear, concise opinions and ideas that are supported by two or more credible sources.

Response is effectively written in standard, edited English.

5 (5%) – 5 (5%)

Communication is mostly professional and respectful to colleagues.

Response to faculty questions are mostly answered, if posed.

Provides opinions and ideas that are supported by few credible sources.

Response is written in standard, edited English.

4 (4%) – 4 (4%)

Response posed in the Discussion may lack effective professional communication.

Response to faculty questions are somewhat answered, if posed.

Few or no credible sources are cited.

0 (0%) – 3 (3%)

Responses posted in the Discussion lack effective communication.

Response to faculty questions are missing.

No credible sources are cited.

First Response:
Timely and full participation
5 (5%) – 5 (5%)

Meets requirements for timely, full, and active participation.

Posts by due date.

4 (4%) – 4 (4%)

Meets requirements for full participation.

Posts by due date.

3 (3%) – 3 (3%)

Posts by due date.

0 (0%) – 2 (2%)

Does not meet requirements for full participation.

Does not post by due date.

Second Response:
Post to colleague's main post that is reflective and justified with credible sources.
9 (9%) – 9 (9%)

Response exhibits critical thinking and application to practice settings.

Responds to questions posed by faculty.

The use of scholarly sources to support ideas demonstrates synthesis and understanding of learning objectives.

8 (8%) – 8 (8%)

Response has some depth and may exhibit critical thinking or application to practice setting.

7 (7%) – 7 (7%)

Response is on topic and may have some depth.

0 (0%) – 6 (6%)

Response may not be on topic and lacks depth.

Second Response:
Writing
6 (6%) – 6 (6%)

Communication is professional and respectful to colleagues.

Response to faculty questions are fully answered, if posed.

Provides clear, concise opinions and ideas that are supported by two or more credible sources.

Response is effectively written in standard, edited English.

5 (5%) – 5 (5%)

Communication is mostly professional and respectful to colleagues.

Response to faculty questions are mostly answered, if posed.

Provides opinions and ideas that are supported by few credible sources.

Response is written in standard, edited English.

4 (4%) – 4 (4%)

Response posed in the Discussion may lack effective professional communication.

Response to faculty questions are somewhat answered, if posed.

Few or no credible sources are cited.

0 (0%) – 3 (3%)

Responses posted in the Discussion lack effective communication.

Response to faculty questions are missing.

No credible sources are cited.

Second Response:
Timely and full participation
5 (5%) – 5 (5%)

Meets requirements for timely, full, and active participation.

Posts by due date.

4 (4%) – 4 (4%)

Meets requirements for full participation.

Posts by due date.

3 (3%) – 3 (3%)

Posts by due date.

0 (0%) – 2 (2%)

Does not meet requirements for full participation.

Does not post by due date.

Total Points: 100