NURS 8000 Intra- and Interdisciplinary Collaborative Practice
The definition of "collaboration" defined by Webster's Dictionary is to work with others or together especially in an intellectual endeavor (Miriam-Webster, 2021). A joint effort which should bring together a diverse group of participants that could include government organizations, health care professionals, insurance industries, and local businesses (the future of nursing: Leading change, advancing health, 2010b). The goal being to identify the problem, brainstorm for workable solutions, institute a solution and then evaluate the effectiveness.
Collaboration between disciplines can be documented back to the days of Florence Nightingale who took her knowledge and experience from her days on the front lines of the Crimean war back to British hospitals to help develop the first nursing school programs. Florence would be so proud as we have taken the fight from the "front lines to the boardrooms." (the future of nursing: Leading change, advancing health, pg. 3 2010b)." As nurses are finally able to take our seat at the table with non-clinicians, we must be able to demonstrate our skills in communication, leadership, informatics, and analytics and have a knowledge base that can demonstrate and that we can be agents of change.
Who better than nurses to help advance our profession than other nurses who speak the same language? (Laureate Education, 2011d.) The word collaborate reminds me of the idiom" it takes a village…." True, that idiom goes on to talk of raising a child, but the crux of the idiom is that is takes many people coming together to successfully obtain a goal. It does take intra-and interpersonal relationships formed within and outside of an organization to advance health care past the 21st century.
Provide at least two detailed examples to support your response.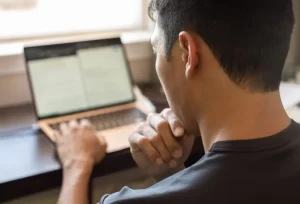 As a manager over a highly recognized lead program for the state of Missouri it is essential that collaboration is a daily must. I must collaborate with my nursing staff to ensure the referral was received and all the information is there for the nurse to them make contact. I collaborate with Department of Health and Senior Services (DHSS) and their lead advocates to ensure we have the most recent parent information as well as the most recent elevated lead level (ELL). There are many times when we must work together develop a plan for the member.
Collaboration is done with the lead assessors who make home visits to evaluate the member's home to determine where the elevated levels of lead might be coming from. Providers are contacted to inform them of the levels and to educate them on their responsibilities. So as one might see from this example, a DNP prepared nurse must possess numerous skills to ensure the members receives the best care.
As a manager I must also collaborate with provider relations as well as the networking department. When my team of nurses identify an issue with a provider such as billing, complaints of being out of network, they inform me, and I must them collaborate with provider relations to have them speak with the provider to clear up and issues or with networking to assist with becoming a in par network provider. Without the collaboration with these departments, the members as well as the providers may not get the assistance they need.
References
(2021). In Merriam-Webster. www.mirriam-webster.com/collaboration
The future of nursing: Leading change, advancing health. (2010b).https://web.archive.org/web/20150203150734/http://iom.edu/~/media/Files/Report%20Files/2010/The-Future-ofNursing/Future%20of%20Nursing%202010%20Report%20Brief.pdf
Laureate Education (Producer). (2011d). The professional role of the DNP-prepared nurse [Video file]. Retrieved from https://classwaldenu.edu
I often think about Florence and what she would have thought about how nursing has progressed professionally. I agree that she would certainly be proud.
Certainly intra- and inter-professional collaboration is an integral component of patient care at all levels of educational preparedness in nursing. As clinicians at the bedside, collaboration occurs with other healthcare disciplines in order to deliver appropriate and timely care. Collaboration with laboratory personnel, radiology personnel, security, physicians, respiratory therapists, and physical therapists are some examples of inter-disciplinary collaboration. Intra-professional collaboration occurs at the bedside with case management and teamwork with other nurses. Other intra-professional collaboration also occurs behind the scenes with risk management, quality, and infection control, which have a more indirect influence on patient care.
The American Association of Colleges of Nursing (AACN) as an organization has done more for the profession of nursing, especially in establishing guidelines and expectations regarding nursing education. The AACN has developed eight essentials for doctoral education (2006). Of particular relevance to the topic of collaboration is the essential for inter-professional collaboration for improving patient care and population health (Waxman & Maxworthy, 2010).
However, other essentials for doctoral education help support inter-professional collaboration such as clinical scholarship as well as organizational and system leadership (Waxman & Maxworthy, 2010). Both of which require collaboration with nursing and other disciplines. Clinical scholarship assists with the ability to critically evaluate, implement, and or participate in research to improve patient care. System and organizational leadership assists with the ability to lead projects to improve patient care.
I appreciate the examples you gave of collaboration on a professional level.  I believe nurses, in general, can see how effective collaboration is. Still, I am old enough to remember when we were not consulted and were to just carry out a doctor's orders without question. We have come a long way:-)
Dr. H
References
American Association of Colleges of Nursing (AACN). (2006). The essentials of doctoral education for advanced nursing practice. Washington, DC. Retrieved from: http://www.aacnnursing.org/DNP/DNP-Essentials