NURS 6053 Leadership Theories in Practice
NURS 6053 Leadership Theories in Practice
Leadership is an important component in nursing practice that influences the quality of healthcare services delivered to the patients. On the other hand, leaders have unique skills and this makes it almost impossible to standardize a given leadership theory in the nursing practice. The current study will focus on the transformational leadership theory and how it influences better outcomes in the healthcare setting.
According to Siangchokyoo et al. (2020), transformational leaders focus on creating relationships rather than commanding their juniors. Furthermore, the leaders empower their subordinates and this creates a good environment for growth and development. In addition, the transformational leaders are more concerned about the welfare of their subjects rather than the profit-making in the organization (Amirullah, 2018). Therefore, they engage all possible measures to create emotional harmony that facilitate coordination and collaboration among the healthcare professionals (Tan, 2020).
I saw the leadership skill in the nursing leader at the institution where I had my clinical practice. Despite the fact that I was fresh from college and did not have enough experience to handle the patients, the nurse was so supportive that she could take me through the processes and ensure that I mastered the critical concepts in care delivery. Her leadership skills are consistent with what is expected of the transformational leaders since she was patient and received the ideas from other nurses freely.
The leadership skills were effective in the workplace since the leaders received much respect from the other staff. Also, the relationship with the subordinate staff made it easy for the nursing leader to introduce changes and received minimal resistance. The leadership practice promotes trust and harmony between the subordinate staff and the departmental head.
NURS 6053 Leadership Theories in Practice References
Amirullah, N. (2018). The mediating role of employee performance: The effects of transformational leadership, emotional intelligence and role conflict on job satisfaction. The International Journal of Engineering and Science (IJES), 7(4 ), 45-51https://doi.org/10.31219/osf.io/xt6fe
Siangchokyoo, N., Klinger, R. L., & Campion, E. D. (2020). Follower transformation as the linchpin of transformational leadership theory: A systematic review and future research agenda. The Leadership Quarterly, 31(1), 101341. https://doi.org/10.1016/j.leaqua.2019.101341
Tan, C. L. (2020). Transformational leadership on organizational citizenship behavior and its Mediational pathway. European Proceedings of Social and Behavioural Sciences, 2357-1330. https://doi.org/10.15405/epsbs.2020.10.67
Leadership can make or break a healthcare organization. Effective leadership has critical implications for nurse well-being, retention, and the care they deliver to patients (Cummings et al., 2021). If leaders do not have the trust of and act within the best interest of those they serve, they are not competent (Marshall & Broome, 2021).
While effective leadership can manifest in many behaviors, idealized influence and individualized consideration are two worth noting.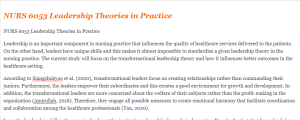 Idealized influence is a trait in transformational leaders that represents their need to do better and be better (Reinhardt et al., 2022). Leaders with this trait foster change by example. Individualized consideration is the ability of leaders to demonstrate emotional concern and consideration for followers (Lai et al., 2020). This can encompass listening, coaching, and recognizing the contributions of followers (Marshall & Broome, 2021).
In practice, I witnessed these behaviors by a former nurse manager for an intensive care unit. This manager would wear navy blue scrubs every day, the same color the floor nurses were required to wear. While this seems trivial, other managers were dressed in corporate garb, appearing entirely unprepared to step in and provide hands-on care if necessary. This manager always looked ready to help, and she would, frequently. This was significant because it instilled a sense of trust and support in the nurses. They felt they could count on her. Additionally, she came by and personally said good morning to each nurse on her unit and checked on them to ensure they didn't have problems they were having difficulty solving. If they were having trouble reaching a physician and obtaining orders, she would step in so they could get back to patient care, or she would provide patient care while they worked on the solution. Moreover, at the end of the day, she would come around again and thank each nurse and tell them something specific they did that day that made a difference. She had invested time in reviewing charts to know what was going on with patients on her floor and spoke with staff which enabled her to provide specific feedback to staff which truly made staff feel appreciated and valued. This unit reflected such a positive climate that nurses from many floors were networking with nurses who worked on the floor and trying to get a good word put in so they could be recruited, which seldom happened because the current staff rarely left due to the high rate of satisfaction.
NURS 6053 Leadership Theories in Practice References
Cummings, G. G., Lee, S., Tate K., Penconek, T., Micaroni, S. P. M., Paananen, T., & Chatterjee, G. E. (2021). The essentials of nursing leadership: A systematic review of factors and educational interventions influencing nursing leadership. International Journal of Nursing Studies, 115(2021), Article e103842. https://doi.org/10.1016/j.ijnurstu.2020.103842
Lai, F. Y., Tang, H. C., Lu, S. C., Lee, Y. C., & Lin, C. C. (2020). Transformational leadership and job performance: The mediating role of work engagement. Sage Open, 10(1), 1-11. https://doi.org/10.1177/2158244019899085
Marshall, E. S., & Broome, M. E. (2021). Frameworks for becoming a transformational leader. In M. E. Broome & E. S. Marshall (Eds.), Transformational leadership in nursing (3rd ed., pp. 2-19). Springer.
Reinhardt, A. C., Leon, T. G., & Summers, L. O. (2022). The transformational leader in nursing practice – an approach to retain nursing staff. Administrative Issues Journal, 12(1), 1-12. https://doi.org/10.5929/2022.12.1.1
  Sarah, it sounds like your manager is well-respected and high-performing. I recently transferred jobs, and my new manager is much like yours. My old manager was not, which was one of the significant reasons for staff discontentment in the workplace. Our team often had a manager and two unit coordinators present during the day, and we were never offered a lunch break or help with patient care. In a staff meeting, a nurse asked if the department's flow nurse (think of an assistant charge nurse) could help break nurses who were having a hectic day, and the manager said that was unrealistic. A style like your manager's transformational leadership could improve the department if used more often. I appreciate your pointing out how transformational leadership may be ineffective in a crisis. It made me wonder if that is what my old manager was thinking because the staffing was critically low and patient volumes were critically high; however, transformational leadership continues to be the evidence-based practice in nursing (Broome & Marshall, 2021). Every person is different, and an emotionally intelligent manager will understand that nurses typically do not respond to the Theory X leadership style of expecting followers to do as they are told (Broome & Marshall, 2021). In a systematic review of the effect leadership style had on nurse retention and well-being, transformational leadership was the most recommended (Niinihuhta & Häggman-Laitila, 2022). Nurses should have leaders focused on "supportive, empowering, resonant, transformational, transactional, authentic, ethical and servant leadership styles" (Niinihuhta & Häggman-Laitila, 2022). Nurse leaders can improve patient outcomes by improving nurse retention and well-being (Niinihuhta & Häggman-Laitila, 2022). Nurses who are satisfied with their job ultimately provide better care, and burnout is a dangerous road to patient harm. The leadership skills you described will most likely improve your staff retention, mood, and patient outcomes. The leadership style of being on the floor with the bedside nurses is highly respected and is one of the primary reasons I came to my new job. Feeling supported by those you expect to lead you is crucial in any workplace.
References 
Broome, M., & Marshall, E. S. (2021). Transformational leadership in nursing: From expert clinician to influential leader (3rd ed.). New York, NY: Springer
Niinihuhta, M., & Häggman-Laitila, A. (2022). A systematic review of the relationships between nurse leaders' leadership styles and nurses' work-related well-being. International journal of nursing practice, 28(5), e13040. https://doi.org/10.1111/ijn.13040
When it comes to leadership, there are so many methods and ways to gain the employees' trust. There is much research stating the best leadership style; the reality is that every situation needs a different kind of leadership, and every profession needs a different one. Parenting, for example, cannot be solely laissez-faire, and it cannot solely be authoritarian. Even transformational leadership cannot be the only method used in parenting. The same goes for nursing; not only style applies to all. Every organization is also different, and every situation is different.
Any leadership style aims to determine the objectives, initiate action, and coordinate workers' efforts (Marshall & Broome, 2021, p.9). The role has always been on the leader to initiate that while motivating workers, but that is only sometimes helpful for employees. Nursing is based on autonomy; therefore, certain leadership styles will need to be revised, like the authoritarian style, which negates the concept of autonomy and almost deletes critical thinking in nurses.
Leadership theories
There are many theories when it comes to leadership. Theory X is focused only on the leader making all the decisions, and based on productivity, followers get incentives and punishments (Marshall & Broome, 2021, p.10). Theory Y is a participative style, always seeking consensus. In contrast, theory z is focused on the well-being of the employees on and off the job and on job satisfaction (Marshall & Broome, 2021, p.10).
The best fit for nursing would be transformational leadership, which could combine theory Y and theory Z. In transformational leadership, the leader influences others not just through specific characteristics like charisma but also through being focused on the leader, on others, and on being a role model (Marshall & Broome, 2021, p.15). Leaders usually have specific characteristics like being good listeners, good coaches, having empathy and support, and being able to motivate and offer recognition (Marshall & Broome, 2021, p.18).
Leadership challenge model
The challenge model is based on providing a role model for the followers to mirror while adding autonomy and developing their strengths. It is a way to make the followers see their leader's strength while developing their own (Marshall & Broome, 2021, p.184).
Leadership in nursing
The leader needs to stay in touch with the employees, listen to their concerns, help if needed, make rounds, and evaluate their performances (Marshall & Broome, 2021, p.186). We can take the charge nurse as an example of leadership in nursing. A charge nurse should always be available, have answers, and show resources; a charge nurse should show empathy, compassion, and self-management. A manager should also be there for support and be seen on the floor alongside the staff nurses, listening to their concerns and meeting their needs. A manager should offer incentives, should motivate, and discuss fallouts.
Leadership in my organization
The leadership style used in my organization is transformational. The manager is always present on the unit and available by phone if off the unit, even on weekends. She continuously checks in with the nurses to ensure they are all right, always offering to step up and monitor patients while nurses take a ten-minute break. Apart from the informal check-ins daily, she has formal check-ins twice a year, discussing what motivates us, how to recognize us, and printing out excellence in performance to show us what others have said about us. She always pushes us to be better and seek what is next by ensuring we are doing our education and thinking for ourselves, and always speaking up. One example was when I had a conflict with the neurology department, not getting back to me, not communicating with me, and dismissing my concerns. She immediately got in touch with them and highlighted the importance of teamwork and communication and the impact that has on the organization. Another example of the her being there was when I had a patient with a wound vac in place; I have never changed one before. She stepped up and helped me do the nursing care that I needed. She was there to help and as a support and I could not have done it without her. Not only did she help, but she made me a resource as well for other people who have not done it before. This is a kind of transformational leadership being there, being visible and motivating me to do better and do more than what is expected by motivating me to teach others.

There are times when a different kind of leadership is needed. In a code situation, transformational leadership cannot be used; a more authoritative kind is needed; the team needs to listen to one leader when there is chaos, and debriefing afterward can clarify why the leader certain things happen. However, there is no time for explanation or negotiation in a time of chaos.
Impact on the organization
Transformational leadership can have many benefits for nurses. It drives them to innovate and inspire (Pattison & Corser, 2023). It helps the nurses keep their autonomy and be creative while supporting and listening to their needs. It helps improve staff retention and motivates them to stay and improve (Pattison & Corser, 2023). In this article, it should there are different methods of leadership, the compassionate, the collective, and the transformational (Pattison & Corser, 2023). The compassionate focus on learning and conversations with the staff is based on the nurses' autonomy. The collective is similar to the transformational; it is shared and discursive, motivating followers to lead. This is the path to success, the path to getting Magnet recognition; it focuses on creating and sharing a vision, and the focus is on the end goal (Pattison & Corser, 2023). Like the transformational style, it might not be the best method in a crisis or code situation (Pattison & Corser, 2023).
Patient outcomes and quality of care measure nursing care; a study showed that transformational leadership and authentic leadership styles are the best suited for nursing since they reduce adverse events and increase nurse retention ( Kiwanuka et al.,2021). Choosing a leadership style is very important since It can affect the outcomes and goals of an organization.
A quantitative study was done in a nursing home to perceive what kind of leadership is used and what leadership is expected. The leading style was autocratic leadership or passive-avoidant (Poels et al., 2020). Unfortunately, this style of leadership could be more productive for nursing. An autocratic leader does not involve nor inform followers of decisions (Poels et al., 2020). This leadership style is attributed to administrators and managers needing more administrative tasks that leave no time to interact with and support their staff (Poels et al., 2020). On the other hand, transformational leadership leads to staff well-being, decreased burnout, increased job satisfaction, and higher patient satisfaction. These lead to increased retention (Poels et al., 2020).
Main Post Competing Healthcare Needs and Policy Development
Amongst the competing needs of healthcare workers, available resources, and patients, my experience is that finances dictate the majority of policy development in hospitals.  "The business model of healthcare routinely undermines the professional knowledge of RNs and their ethical mandate to provide individualized patient-centered care, often causing tensions, strains, and ethical conflicts" (Kelly & Porr, 2018, para. 1).
As a travel nurse, I move from hospital to hospital, and the emphasis on reimbursement with HCAHPS surveys has created a predictable algorithm followed by hospitals across the country.  The result is effective, if myopic, policy development in the areas of patient safety and the prevention of hospital acquired infections.  The result is a workforce ethically mandated to provide holistic, patient-centered care with organizational leadership asking them to spend more and more time documenting interventions.  If turns have been charted every two hours, did the pressure ulcer really happen?  Patient outcomes are prioritized when associated with cost outcomes and are otherwise neglected while organizations promote efficiency (Kelly and Porr, 2018).  Outcomes in these designated areas have improved, but competing needs, like staff well-being or providing patient-centered care, are increasingly neglected.  At worst, time constrained and understaffed nurses are forced with the dilemma of doing the safety interventions or documenting them. The lack of consideration for staff time seems to be thematic in liability-avoiding policies (often excessive documentation), and the result is nurses forced to make difficult decisions between strict adherence to policy or actually having time to spend giving quality care to patients.  This is an extreme example, but I have had all too many shifts when I am faced with exactly this dilemma, and personally, I choose the patient care.
Competing Needs and Healthcare Access
The major competing need with healthcare accessibility in hospital settings is staff availability.  Higher nurse to patient ratios lead to delays in care and sometimes contribute to complications.  Additionally, patient satisfaction correlates with staff availability.  In addition to a general shortage of healthcare workers, some staff shortages are the result of cost saving decision making by healthcare organizations (Winter et al, 2020).  Despite claiming emphasis on patient safety outcomes, inadequate personnel with excessive demands provide unsafe care due to incomplete nursing tasks.  Organizations claim to emphasize patient safety, but regularly make financial decisions to ration staffing to save money (Wiczak et al., 2021).  I love the extra money with travel nursing (and there are higher cost of living expenses moving around all the time), but hospitals using travelers to avoid the long-term costs of benefits and raises for staff nurses is a completely toxic practice that needs to end.
Impact of Competing Needs in Hospitals
Competing needs impact quality of care.  In hospitals, the time constraints on nurses lead to waste and worse outcomes.  Hospital staff should expect a stressful job and have strategies to deal with that, but the growing list of expectations from management along with short staffing are making hospitals unnecessarily difficult places to work.  A personal pet peeve of mine that is a direct effect of competing needs on staff, is waste in hospitals.  Rushed nurses do not check rooms for supplies before they go and perform patient care tasks.  Environmental cost is completely neglected to provide single use plastic objects and tools to patients and staff. Why can't we just teach deep inspiratory breathing instead of giving every single person an incentive spirometer that ends up in a landfill?  My current hospital goes so far as to have a policy to discard all IV tubing after 24 hours.  It makes sense with central lines, but carrying it over to all tubing is just wasteful.  The Code of Ethics in Nursing fails to even mention our impact on the physical environment, but it does promote sound judgment and promoting global health (ANA, 2015). At some point we need to acknowledge the lack of sustainability in the way we use materials and make changes.  Scarcity does promote teamwork and creative efficiency, but staff, patients, and the environment suffer with the current business model in healthcare.
Policy Solutions for Competing Needs
Insurers, particularly Medicare, have too much control over our healthcare system.  The Affordable Care Act improved access to care, but these quality outcome measures have hijacked our healthcare system and made it based on survey results.  One solution would be universal healthcare.  If people are just covered, insurance cannot nitpick over outcome data and have healthcare organizations jumping through hoops to hit benchmarks so they get reimbursed for the care they provide.  This is highly unlikely (if not impossible) in our current political climate even though the United States has higher healthcare costs with worse outcomes compared to countries with universal healthcare.  We have a lower life expectancy, more preventable and chronic conditions, higher maternal and infant mortality, and more suicides than other wealthy and developed countries, all of which have universal healthcare (The Commonwealth Fund, 2023).
In the meantime, I think a good step would be incentivizing good outcomes, with something like a tax cut, rather than punishing poor outcomes with a loss of reimbursements.  It would foster an environment where organizations were working with staff for something positive, rather than to avoid something negative.  Until then, I am grateful for some experiences with good hospital leadership who find ways to reframe the emphasis on negative outcomes into positive change for the organization.