HLT 302 CLC Suffering and Evil Presentation
HLT 302 CLC Suffering and Evil Presentation
This is a Collaborative Learning Community assignment.
The instructor will divide the class into groups and assign a religion other than Christianity to research.
Create a 5-7 slide presentation with speaker notes that focuses on views of evil and suffering from a religion other than Christianity. Your instructor will assign a religion to each group.
After researching information on your assigned religion, address the following:
1- Describe the view of suffering (source and cause of suffering and solution).
2- Explain grieving process.
3- Identify approaches to dealing with grief (solution to deal with suffering).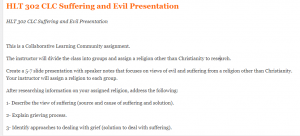 Include a comparison of assigned religion to Christianity. How does your assigned religion differ from Christianity?
Support your position by referencing at least three to five academic resources (preferably from the GCU Library) in addition to the Bible and the textbook. Incorporate the research into your writing in an appropriate, scholarly manner.
Select one team member to post the presentation to the "Suffering and Evil" thread in the Main Forum. Respond to at least one other presentation.
Click here to ORDER an A++ paper from our MASTERS and DOCTORATE WRITERS: HLT 302 CLC Suffering and Evil Presentation
While APA format is not required for the body of this assignment, solid academic writing is expected, and in-text citations and references should be presented using APA documentation guidelines, which can be found in the APA Style Guide, located in the Student Success Center.
This assignment uses a rubric. Please review the rubric prior to beginning the assignment to become familiar with the expectations for successful completion.
You are required to submit this assignment to Turnitin. Please refer to the directions in the Student Success Center.
How to Help When Others Are Grieving
It can be so difficult to know what to say or do when someone who has experienced loss. We do our best to offer comfort, but sometimes our best efforts can feel inadequate and unhelpful.
Here are a few tips to keep in mind:
Avoid rescuing or fixing. Remember, the person who is grieving does not need to be fixed. In an attempt to be helpful, we may offer uplifting, hopeful comments, or even humor, to try to ease their pain. Although the intention is good, this approach can leave people feeling as if their pain is not seen, heard, or valid.
Don't force it. We may want so badly to help and for the person to feel better, so we believe that nudging them to talk and process their emotions before they're truly ready will help them faster. This is not necessarily true, and it can actually be an obstacle to their healing.
Make yourself accessible. Offer space for people to grieve. This lets the person know we're available when they're ready. We can invite them to talk with us but remember to provide understanding and validation if they are not ready just yet. Remind them that you're there and not to hesitate to come.
Click here to ORDER an A++ paper from our Verified MASTERS and DOCTORATE WRITERS: HLT 302 CLC Suffering and Evil Presentation