Discussion: IUGR Essay
Discussion IUGR Essay
The post is quite informative on how depression contributes to intrauterine growth restriction and preterm birth. I agree that it would be best practice if midwives screened for depressive symptoms in all pregnant women during the antenatal check-ups to assess for women at risk of depression. IUGR is known to cause a spectrum of perinatal complications such as intrapartum hypertension, fetal anomalies, respiratory distress syndrome, preterm birth, and neonatal death (Galan & Grobman, 2015). If IUGR can be prevented through early screening and treatment of depression, it would help lower neonatal mortality to a great extent. Furthermore, women with depressive symptoms during pregnancy are highly likely to develop postpartum depression, which has adverse outcomes on the health of the mother as well as the well-being of the newborn.
In addition to screening for mental disorders, I would suggest screening for history of substance abuse and smoking, which significantly contribute to IUGR and preterm birth (Doulatram, Raj & Govindaraj, 2015). Besides, we know that a history of substance abuse is associated with depression; hence, the early screening will help lower substance abuse in pregnancy and decrease the rate of IUGRs. Furthermore, conducting a comprehensive maternal profile in our first encounter with pregnant women will help evaluate for the presence of maternal causes of IUGR (Galan & Grobman, 2015). We can assess for maternal risk factors such as chronic hypertension, cyanotic heart disease, presence of autoimmune diseases, thrombophilia, diabetes, and protein-calorie malnutrition.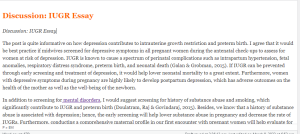 In the case of the NP who measured a fundal height 3-4cm below the expected GA, the NP should have referred the patient for an ultrasound. Sometimes there is a discrepancy in the fundal height measurements, especially in obese and petite patients. I think the best practice would be to obtain an initial scan in all women at 20 weeks to evaluate for anomalies and confirm dates (Aditya et al., 2016). A repeat scan at 32 weeks would further be beneficial to assess the fetal growth and rule out asymmetry fetus.
To answer your question as to Grote\'s article being far fetched when relating depression to IUGR; I don\'t think this is a statement deemed unreliable. I found this interesting in our readings about pre-term birth. According to King et al. (2019), depression can cause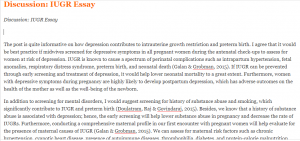 maternal stress, which prematurely activates the maternal HPA axis, leading to uterine stimulation. I don\'t include this to say that every IUGR outcome is related to pre-term birth, but it certainly can happen. It\'s important as midwives to acknowledge the role depression can have on maternal and neonatal outcomes. The clinic I\'m precepting at has a new study being done about screening every woman for mental disorders, and not just those who have a history. I think this would be beneficial in helping those women who feel they can\'t talk about their mental state. This could help by preventing outcomes such as IUGR in relation to maternal risk factors such as depression.
As midwives, identification of a problem and following up with education and counseling can help provide a better outcome for mother and baby. Although we hope for the best in every situation, there\'s a possibility of getting so engulfed with \"Normal\" that we forget to understand that identifying \"Abnormal\" is just as important. There was a NP that measured a fundal height 3-4cm below the expected GA for a patient, but attributed it to the size of the patient instead of referring her for further identification. That baby ended up measuring below the 10th percentile, and was later diagnosed as IUGR. The mother was hysterical and thought she was doing a horrible job at growing her baby. The NP should have referred the patient, and also provided counseling with anticipatory guidance in case IUGR would be the final diagnosis. I appreciate hearing about and also seeing these situations, as it is growing my knowledge and fine-tuning my skills as a midwife.