Discussion: Influencing Social Change Essay
Discussion  Influencing Social Change Essay
Majority of individuals living with psychiatric disorders at some point in their life have been blamed for the mental condition and even discriminated. Stigma among patients with mental disorders is a complex matter that affects all the facets of their life from finding job opportunities, housing, insurance, education to acquiring fair treatment in the child welfare system. They also end up having a hard time coping with their mental condition, and some might even commit suicide (Thornicroft et al., 2016). As such, the purpose of this paper is to examine the role of nursing practitioners in stopping such humiliation and making the public aware of the existence of these mental disorders and the need to provide support to such individuals.
As a nurse practitioner, several strategies can be employed to advocate for social change and positively impact the lives of patients with psychiatric mental disorders. For starters, as a nurse practitioner, I must acknowledge other health practitioners
together with the general public of the various mental disorders, their symptoms, and management to replace the assumptions and misconceptions with accurate facts (Ruesch & Bateson, 2017). Consequently, the negative social impact can be changed by directly relating to the people with these psychiatric mental conditions at a personal level, and educate the people in their lives on how they can help in managing the patient's conditions and promote their social life and acceptance. Formulation of different policies can also help fight for the rights of such individuals to enhance equality and full benefits from social and government resources.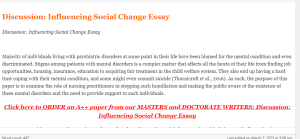 Lastly, within my own community, change can be advocated by coming up with patient empowerment groups and informative and educational support groups, which will bring together the people with mental illness and help them find ways of coping with the humiliation (Corrigan et al., 2017). Additionally, the groups will help these patients serve as the first ambassador to inform the public of their mental condition, and how their support is highly needed to improve their quality of life. Social media among other media platforms can also be used to change the general public perception concerning patients with mental disorders.
cite scholarly resources including peer-review journals and current practice guidelines
 Please, all bullets points, bold, red and highlighted area must be attended to.
 A clear purpose statement (The purpose of this paper is to…) is required in the introduction of all writings