Benchmark – Part B Literature Review Assignment
Benchmark – Part B Literature Review Assignment
Oncology nurses operate in a high-stress setting that promotes burnout. The nurses care for patients who are on the verge of death and are grappling with the concept of death. The care must facilitate healing and prepare patients to deal with pain, sadness, and impending death. Oncology nurses are emotionally exhausted, depersonalized, and have a lower feeling of personal accomplishment as a result of burnout (Gomez-Urquiza et al., 2016). Insomnia, anger, an increased risk of alcohol and drug misuse, absenteeism, and medical blunders are also associated with burnout. It is then critical for hospitals and nurses to adopt protocols for dealing with burnout in order to optimize both nurse care and patient care. A potentially beneficial intervention for nurses is mindfulness practice, which requires a review of evidence-based information to determine its usefulness. The following PICOT question will be used to guide the literature search: Will using mindfulness practice versus no intervention result in a reduction in reported burnout among cancer nurses working with patients at the end of life during a ten-month period?
Criteria for Article Evaluation
A comprehensive literature review was conducted online in response to the PICOT question above. The GCU library now has a collection of peer-reviewed literature. The articles were sourced during the search from databases such as CINAHL, PsycInfo, ProQuest, and Pubmed. The search included the following keywords: burnout, oncology nurses, mindfulness, end-of-life patients, stress, and coping. Peer-reviewed works published within the last five years met the inclusion criterion. The publications included addressed mindfulness interventions for health care professionals, mindfulness interventions for oncology nurses, and mindfulness and nurse well-being. Dissertations, book reviews, therapies with unknown effects, and the application of mindfulness to manage patient populations were excluded as exclusion criteria. Sixty papers were identified, of which twenty were chosen for abstract evaluation. After reviewing the abstracts, we applied the inclusion and exclusion criteria and chose ten papers for full-text review. Five articles were ultimately chosen for the review of the literature, while the remaining five were discarded due to a lack of stated outcomes and low subject engagement. Literature Review Assignment for Benchmark – Part B
Articles about a Selection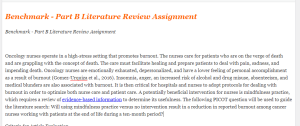 Penque (2019) conducted a quasi-experimental, longitudinal, pretest-posttest, correlational study to determine whether implementing mindfulness-based stress reduction programs promotes job satisfaction and minimizes burnout. The study enrolled 61 nurses aged 21 years and older who self-reported having no currently diagnosed mental disease. The nurses were recruited through fliers, emails, staff meetings, council meetings, and one-on-one interactions after receiving approval from the Instructional Review Board. They were subsequently enrolled in the MBSR program, and data were collected three months prior to, during, and following the intervention.
The training was based on the MBSR program developed by Kabat-Zinn. The researcher discovered that the program significantly reduced job burnout and enhanced particular psychological traits such as tranquility, self-compassion, and mindfulness. The findings were statistically significant and corroborative of the hypothesis. The study's limitations include the absence of a randomized controlled sample and comparison group, the study's focus on a single geographic area, the use of a self-reported evaluation measure, and the possibility of selection bias. The article substantiates the PICOT by demonstrating that mindfulness practice has a beneficial influence on nursing burnout and can assist cancer nurses in caring for patients towards the end of their lives. Part B – Benchmark Review of Literature
Duarte and Pinto-Gouveia (2017) also executed research to determine how mindfulness-based interventions affect burnout, satisfaction with life, psychological symptoms and self-compassion among oncology nurses. The authors used a non-randomized controlled study and the participants were sourced from two large oncology hospitals in north and central Portugal. The study had 94 oncology nurses with experimental and waitlist comparison condition groups. The intervention used was a 6-week mindfulness-based group intervention as outlined by Kabat-Zinn. The waitlist group also received the intervention after the study. Self-reported measures helped in assessing mindfulness, self-compassion, burnout, depression, and compassion fatigue among others. The study revealed that use of mindfulness mediated changes has a positive impact on burnout, anxiety, and stress as well as satisfaction with life. The participants who received the intervention had increases mindfulness, self-compassion, as well as reduced compassion fatigue and psychological inflexibility, compared to the comparison group. The article not only uses oncology nurses but compares nurses using mindfulness-based intervention and those not using which is the main aim of the PICOT question.
Burton et al. (2017) equally systematically reviewed articles to determine how mindfulness-based intervention reduce stress among health professionals. The researchers set exclusion and inclusion criteria and then searched articles that met their conditions on MEDLINE, PsycINFO, CINAHL, and BNI and eventually they settled on nine articles. All the articles used interventions like traditional Mindfulness-Based Stress Reduction (MBSR), modified MBSR, mindfulness-based cognitive attitude training, or telephonic MBSR. The articles were then meta-analyzed and they revealed that MBIs reduce stress among healthcare professionals. Eight of the analyzed articles reported positive effects and only one did not. The articles also indicated an improvement in burnout among health practitioners. Therefore, article offers various mindfulness interventions that can be used to support nurse oncologists and thus useful in the current research. Benchmark – Part B Literature Review Assignment
In their article, Vivian et al. (2019) evaluated the significant statistical relationships between nurse's perceived stress, patient satisfaction score, self-care habits, emotional self-regulation, frequency of stressors and mindfulness. The authors used a cross-sectional survey where 340 nurses from all Methodist Dallas Medical Center departments participated. The researchers noted that perceived stress was caused by death and dying, lack of support, conflict with physicians and workload. In terms of dispositional mindfulness, the researcher found out that adult critical care units had the least scores. The article is essential because it guided on how to set priorities ad tailor mindfulness-based stress-reduction interventions.
Lastly, Flatt and Dabney (2019) executed a literature review to find out whether mindfulness-based stress reduction results in a lesser rate of burnout. The researchers explored current evidence on how MBSR impacts healthcare worker burnout. Flatt and Dabney (2019) used databases like CINHAL, SUMSearch, and PubMed to get their evidence. They found six articles that answered their question and all of them had interventions that lasted between 6 to 8 weeks with training sessions lasting 1 to 2.5 hours. Most of the articles assessed outcomes like burnout, stress, distress, depression and compassion fatigue. All of the articles indicated a need to use mindfulness-based program to reduce or prevent burnout or stress.
Articles Comparison
All the articles analyze the use of mindfulness-based interventions in enhancing health professionals' ability to execute their duties. Penque (2019) for instance recommends the use of MBSR because it promotes physical and psychological wellbeing of nurses. The need to use such a tool stem from the fact that managing clinical work stress results in job burnout. Similar sentiments are reflected by Duarte and Pinto-Gouveia (2017) who state that MBI intervention improves burnout and psychological distress among nurses. All the articles report a positive effect of mindfulness among nurses in handling burnout and thus indicate a need to implement such a program for oncologist nurses managing end of life patients (Vivian et al., 2019; Flatt & Dabney, 2019; Burton et al., 2017).
In terms of differences, the authors have used varying durations of interventions though most of them range from 6-8 weeks. Additionally, the number of samples used varies although the results obtained are consistent with existing literature. For instance, Penque (2019) used 8 weeks, Duarte and Pinto-Gouveia (2017) used 6 weeks while Burton et al. (2017) reported most of analyzed studies lasted between 6-8 weeks. Two articles handle general health practitioners (Burton et al., 2017; Vivian et al., 2019) while the other three specifically address nurses with one dealing with oncology nurses (Duarte & Pinto-Gouveia, 2017).
Areas of Further Study
In terms of practice implication, Penque (2019) assert the need to advocate for mindfulness programs to help nurses reframe difficult situations and redirect their negative thinking. The practice should be practiced more often to ensure that one avoids negativity and get insights into situations faced within the clinical settings. The intervention should be taught to oncology nurses to create a group of nurses who can promote camaraderie and support each other in stressful situations. There is a need to handle time commitment since it is a common barrier to the application of mindfulness –interventions (Vivian et al., 2019). To handle time issues, a brief and easy to access interventions should be used to enhance uptake and effectiveness and ensure that nurses can apply them and handle their intensive workloads. For future research, intervention done should include several assessment time points to help in coming up with stronger conclusions (Duarte & Pinto-Gouveia, 2017).  Burton et al. (2017) also emphasize the need to use checks of fidelity in future studies to ensure that interventions are delivered as set and clear conclusions are made.
Benchmark – Part B Literature Review Assignment References
Burton, A., Burgess, C., Dean, S., Koutsopoulou, G. Z., & Hugh‐Jones, S. (2017). How effective are mindfulness‐based interventions for reducing stress among healthcare professionals? A systematic review and meta‐analysis. Stress and Health, 33(1), 3-13.
Duarte, J., & Pinto-Gouveia, J. (2017). Mindfulness, self-compassion, and psychological inflexibility mediate the effects of a mindfulness-based intervention in a sample of oncology nurses. Journal of Contextual Behavioral Science, 6(2), 125-133.
Flatt, T., & Dabney, B. W. (2019). Mindfulness-Based Stress Reduction and Workplace Burnout: A Literature Review. Sigma Theta Tau International.
Gomez-Urquiza, J. L., Aneas-López, A. B., la Fuente-Solana, D., Emilia, I., Albendín-García, L., & Díaz-Rodríguez, L. (2016). Prevalence, Risk Factors, and Levels of Burnout Among Oncology Nurses: A Systematic Review. In Oncology nursing forum, 43(3).
Penque, S. (2019). Mindfulness to promote nurses' well-being. Nursing Management, 50(5), 38-44.
Vivian, E., Oduor, H., Arceneaux, S. R., Flores, J. A., Vo, A., & Madson Madden, B. (2019). A cross-sectional study of perceived stress, mindfulness, emotional self-regulation, and self-care habits in registered nurses at a tertiary care medical center. SAGE Open Nursing, 5, 2377960819827472.
Lopes Write Policy
For assignments that need to be submitted to Lopes Write, please be sure you have received your report and Similarity Index (SI) percentage BEFORE you do a "final submit" to me.
Once you have received your report, please review it. This report will show you grammatical, punctuation, and spelling errors that can easily be fixed. Take the extra few minutes to review instead of getting counted off for these mistakes.
Review your similarities. Did you forget to cite something? Did you not paraphrase well enough? Is your paper made up of someone else's thoughts more than your own?
Visit the Writing Center in the Student Success Center, under the Resources tab in LoudCloud for tips on improving your paper and SI score.
Late Policy
The university's policy on late assignments is 10% penalty PER DAY LATE. This also applies to late DQ replies.
Please communicate with me if you anticipate having to submit an assignment late. I am happy to be flexible, with advance notice. We may be able to work out an extension based on extenuating circumstances.
If you do not communicate with me before submitting an assignment late, the GCU late policy will be in effect.
I do not accept assignments that are two or more weeks late unless we have worked out an extension.
As per policy, no assignments are accepted after the last day of class. Any assignment submitted after midnight on the last day of class will not be accepted for grading.
Communication
Communication is so very important. There are multiple ways to communicate with me:
Questions to Instructor Forum: This is a great place to ask course content or assignment questions. If you have a question, there is a good chance one of your peers does as well. This is a public forum for the class.
Individual Forum: This is a private forum to ask me questions or send me messages. This will be checked at least once every 24 hours.
Important information for writing discussion questions and participation
Welcome to class
Hello class and welcome to the class and I will be your instructor for this course. This is a -week course and requires a lot of time commitment, organization, and a high level of dedication. Please use the class syllabus to guide you through all the assignments required for the course. I have also attached the classroom policies to this announcement to know your expectations for this course. Please review this document carefully and ask me any questions if you do. You could email me at any time or send me a message via the "message" icon in halo if you need to contact me. I check my email regularly, so you should get a response within 24 hours. If you have not heard from me within 24 hours and need to contact me urgently, please send a follow up text to
I strongly encourage that you do not wait until the very last minute to complete your assignments. Your assignments in weeks 4 and 5 require early planning as you would need to present a teaching plan and interview a community health provider. I advise you look at the requirements for these assignments at the beginning of the course and plan accordingly. I have posted the YouTube link that explains all the class assignments in detail. It is required that you watch this 32-minute video as the assignments from week 3 through 5 require that you follow the instructions to the letter to succeed. Failure to complete these assignments according to instructions might lead to a zero. After watching the video, please schedule a one-on-one with me to discuss your topic for your project by the second week of class. Use this link to schedule a 15-minute session. Please, call me at the time of your appointment on my number. Please note that I will NOT call you.
Please, be advised I do NOT accept any assignments by email. If you are having technical issues with uploading an assignment, contact the technical department and inform me of the issue. If you have any issues that would prevent you from getting your assignments to me by the deadline, please inform me to request a possible extension. Note that working fulltime or overtime is no excuse for late assignments. There is a 5%-point deduction for every day your assignment is late. This only applies to approved extensions. Late assignments will not be accepted.
If you think you would be needing accommodations due to any reasons, please contact the appropriate department to request accommodations.
Plagiarism is highly prohibited. Please ensure you are citing your sources correctly using APA 7th edition. All assignments including discussion posts should be formatted in APA with the appropriate spacing, font, margin, and indents. Any papers not well formatted would be returned back to you, hence, I advise you review APA formatting style. I have attached a sample paper in APA format and will also post sample discussion responses in subsequent announcements.
Your initial discussion post should be a minimum of 200 words and response posts should be a minimum of 150 words. Be advised that I grade based on quality and not necessarily the number of words you post. A minimum of TWO references should be used for your initial post. For your response post, you do not need references as personal experiences would count as response posts. If you however cite anything from the literature for your response post, it is required that you cite your reference. You should include a minimum of THREE references for papers in this course. Please note that references should be no more than 5 years old except recommended as a resource for the class. Furthermore, for each discussion board question, you need ONE initial substantive response and TWO substantive responses to either your classmates or your instructor for a total of THREE responses. There are TWO discussion questions each week, hence, you need a total minimum of SIX discussion posts for each week. I usually post a discussion question each week. You could also respond to these as it would count towards your required SIX discussion posts for the week.
I understand this is a lot of information to cover in 5 weeks, however, the Bible says in Philippians 4:13 that we can do all things through Christ that strengthens us. Even in times like this, we are encouraged by God's word that we have that ability in us to succeed with His strength. I pray that each and every one of you receives strength for this course and life generally as we navigate through this pandemic that is shaking our world today. Relax and enjoy the course!
Hi Class,
Please read through the following information on writing a Discussion question response and participation posts.
Contact me if you have any questions.
Important information on Writing a Discussion Question
Your response needs to be a minimum of 150 words (not including your list of references)
There needs to be at least TWO references with ONE being a peer reviewed professional journal article.
Include in-text citations in your response
Do not include quotes—instead summarize and paraphrase the information
Follow APA-7th edition
Points will be deducted if the above is not followed
Participation –replies to your classmates or instructor
A minimum of 6 responses per week, on at least 3 days of the week.
Each response needs at least ONE reference with citations—best if it is a peer reviewed journal article
Each response needs to be at least 75 words in length (does not include your list of references)
Responses need to be substantive by bringing information to the discussion or further enhance the discussion. Responses of "I agree" or "great post" does not count for the word count.
Follow APA 7th edition
Points will be deducted if the above is not followed
Remember to use and follow APA-7th edition for all weekly assignments, discussion questions, and participation points.
Here are some helpful links
The Writing Center is a great resource