Benchmark Assignment: Long-Term Goals
Benchmark Assignment Long-Term Goals
As I prepare for graduation, I believe there are several options that will be available to me as a GCU graduate. One of the options that is currently open and at my disposal is one pertaining to attending graduate school. In as far as the latter is concerned, I am already enrolled at the University of Texas-Austin in which I am pursuing a Master's Degree in Clinical Psychology. Since the aforementioned field is one that is quite broad, I decided to narrow down to children as my major point of focus in the study. The reason is mainly due to the dire fact that I have always had an eye for children and through furthering the course, I believe I will gain an inclination into understanding them better in terms of how they think and reason. On the same note, children are a pivotal part of the society and keen interest ought to be paid to them.
Since I am already enrolled in a graduate school, I am striving to ensure I complete the course before embarking on the journey of securing an employment position in a distinguished parastatal or non-governmental organization. The first step I had to take in preparation for graduate school was adjusting the mental state of my mind into realizing that I was done being an undergraduate and was set to advance to a graduate school. In as much as the statement makes the process seem quite simple, it was not the case since mental preparedness and adjustment proved to be somewhat challenging.
Secondly, since there are a vast majority of graduate students who wish to advance their studies, I had to start early to ascertain
that I did not miss the application deadline. A parallel reason for the latter was also because the application process associated with the entry and acceptance into the graduate school is quite lengthy and require ample time to complete. Therefore, early commencement meant I would not be rushing and would have enough time to consider all options and make informed decisions. On the same note, the application process required transcripts, standardized test scores and an application form that had to be retrieved and promptly submitted.
On the contrary, the case associated with the application for a job in the field of study is quite different from the one meant for applying to graduate school. In as much as they both heavily rely on academic excelsior, the application for a job requires experience and application of the knowledge attained in school. While the one for a job prepares one for real-life experiences and challenges, the one for graduate school prepares an individual for yet another duration in school. However, they both require ample research and timely preparation.
One of my long-term career goals is to acquire a job and later on a promotion immediately I am done with graduate school since a Master's Degree in clinical psychology would be an added advantage. The degree would serve as qualification into the career field. Another long-term career goal would be to start my own firm. However, for me to do so, I will need vast experience gained through not only my studies but also work. Therefore, I will have to work for some time under an employer before I can attain the level of the required experience. According to McClure (2017), experience plays a crucial role and it would be quite challenging to manage a firm if one does not know what is expected of them.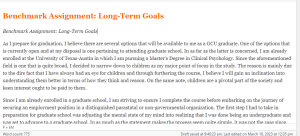 Please answer the following questions posted below in essay form. A few things to note about the questions and what they pertain to.. I already got into University of Texas- Austin, so you can include that in question (1). Also I will be mastering in Clinical psychology, mostly pertaining to children. The details for this assignment are:
As you prepare for graduation, consider what options will be available to you as a GCU graduate. In 500-750 words, discuss your future decisions to join the career field or to attend graduate school.
1) Compare the differences in how you would prepare for graduate school as opposed to applying for a specific job in your field.
2) Share two to three long-term career goals, include the degree or experience necessary to pursue your long-term career goals.
3) Provide a brief summary explain why each option is appropriate in helping you reach your goals.