Benchmark Assignment: Future scope, Role and professional obligations
Benchmark Assignment  Future scope, Role and professional obligations
The shortage of nurses across the nation is not coming down any sooner, as the baby boomer population continues to grow older and the life expectancy increases, expanding the demand for medical care. In 2017, the United States Bureau of Labor Statistics predicted a need of nearly 1.1 million newly registered nurse by the year 2022 to be able to replace the 500,000 who will be retired by that time and also fill the new 100,000 registered nurse positions (Bittner & Bechtel, 2017)). This is good news especially for all those who are advancing their nursing careers to become nurse educators. Generally, nurse educators play a significant role in making sure that nurses of the next generation are prepared to be able to meet the drastically increased demand for healthcare services. The future of nursing as a profession is in the hands of nursing educators as they encourage holistic patient care and promote community health. Currently, more than 85% of nursing programs across the nation are hiring new faculty members (Jack, Hamshire, & Chambers, 2017). This paper focuses on the future scope, roles and professional obligation of an advanced registered nursing graduate as a nurse educator.
Professional Roles and Scope of Practice of a Nurse Educator
Irrespective of the transitioning to a pedagogical role, most nurse educators still perform some of the therapeutic roles in a hospital setting, all through their career. In so doing, they tend to familiarize and update themselves with the most current practices and evolutions in the nursing field so as to be able to transmit up to date knowledge to their students. Nursing educators are responsible for designing an educational program for nurses, implementing them, and conducting evaluations and revisions of these programs (Harper & Maloney, 2017). They may also lecture general nursing classes, or major in training specialized nursing areas such as pediatric nursing, nursing informatics, and psychiatric nursing. Nurse educators also have the responsibility of teaching some causes that are included in formal academic programs which lead to a degree, or in credential/certificate programs or continuing education.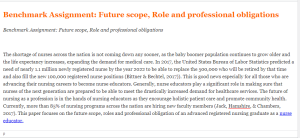 At some point in the career of a nurse educator, they will be expected to formulate new nursing courses or update the old ones. For this reason, most nurse educators are supposed to be on the frontline when it comes to clinical nursing practice. As stated earlier, they must have current and updated information. Additionally, nurse educators are expected to have excellent leadership skills and a thorough knowledge of their field to be effective at their jobs. Some of the roles played by nurse educators in their daily practice include (Warren & Harper, 2017):
Designing the curricula
Teaching nursing students
Evaluating the performance of nursing students
Developing and implementing classes and programs of study
Advising nursing students
Assessing and revising all the educational programs and nursing classes
Overseeing the clinical practice of nursing students
Documenting all the outcomes of nursing educational processes
Promoting productive discussion among nursing students
Serving as the main role model and mentor for nursing students
Engaging in scholarly works such as peer review and research
Maintaining clinical competence
Making contributions to the academic community by portraying excellent leadership roles
Education, Licensure, Accreditation, and Certification of a Nursing Educator
            The first step for someone to become a nurse educator is to enroll in a nursing course at a college or university and attain a
bachelor's degree in nursing (BSN). After achieving the BSN degree, one can then proceed to take the National Council Licensure Examination (NCLEX-RN). You have to pass this exam to be entitled to a slicense as a registered nurse (RN) (Pasila, Elo, & Kääriäinen, 2017). However, to become a nurse educator, the authorized BSN holder is required to acquire an advanced degree. Some of the advanced degrees include a Master's of Science in Nursing degree (MSN), a Doctor of Nursing Practice (DNP), and a Doctor of Nursing Philosophy (Ph.D.). One can take an MSN university program online or in traditional classroom settings. The coursework that is covered in the MSN program is more advanced than the ones of a bachelor's degree. The main aim of these post-baccalaureate programs is to build onto the knowledge acquired by nurses during their undergraduate studies. Some nurse educators are usually interested mainly in the nursing academic field. Such individuals will enroll in a Doctor of Nursing Philosophy (Ph.D.) programs. The program equips nurse educators with adequate knowledge in research statistics, leadership, and public policy. Also, some universities are allowed to offer dual MSN/Ph.D. degree programs.
The American Association of College of Nursing perpetuates then notion that for one to be able to attain the highest position in the nursing educator field, at colleges or universities, they must possess a doctoral degree in nursing, such as those who have completed Doctor of Nursing Philosophy (Ph.D.) or Doctor of Nursing Practice (DNP) programs. DNP programs mainly emphasize clinical practice, as the Nursing Ph.D. programs focus on research. Most nursing employers will only hire nurse educators with a nursing license in addition to a minimum of an MSN, and two to five-year experience in any healthcare setting (Craft, Hudson, Plenderleith, & Gordon, 2017). To become a Certified Nurse Educator (CNE), these individuals must have passed the National League of Nursing certification exam.
Helpful Professional Organizations
Association for Nursing Professional Development (ANPD), American Association of Colleges of Nursing (AACN) and National Staff Development Organization (NSDO) are some of the main bodies working hard to improve the quality of care by making sure that trained nurses can provide improved quality care and meet the increasing healthcare demands (Harper, & Maloney, 2017). As an advanced registered nursing graduate, joining the American Association of Colleges of Nursing will be a dream come true. Focusing on becoming a nurse educator comes with a lot of responsibilities, such as enhancing the voice of academic nursing education. Consequently, the main objectives of AACN is to improve the quality of nursing education, help different nursing schools implement high quality standards, influence nursing as a profession in order to improve health care, and to promote community and public support to professional nursing education, practice and research (Njie-Carr et al., 2017; DeNisco & Baker, 2016). All these objectives are in line with my future career choice of becoming a nurse educator.
Subsequently, the organization also offers different career opportunities, which will be beneficial for a beginner nurse educator. Working with AACN will be a great leap in my future career, being able to acquire enough experience to be able to make it through as a professional nurse educator (Bauer & Bodenheimer, 2017). The organization also has some educational programs that equip nurses with current and adequate knowledge and skills to be able to deliver high-quality healthcare to patients in a hospital setting and to deliver education to nursing students at large effectively.
Evolving Issues in the Healthcare System
Nursing as a profession is evolving at an alarming speed. Future challenges that nursing as a profession will face involves ensuring that nursing students will be trained in the care of a progressively non-hospital-based patient population, development and maintaining of high quality of education through the new electronic learning platforms, and maintaining the integrity of scholarship in the online education process (Murphy, Goossen, & Weber, 2017). All these challenges affect the future career of a nurse educator, who is the primary trainer of future nurses.
Since there is more emphasis on the shift from hospital-based healthcare to community-based care, a number of nurse educators propose that nursing students should be trained to provide competent care to a wide variety of patient population. The nursing education system will have to be broadened in fields such as symptom management, systemic assessment of chronically ill patients for the deterioration of different body systems and new diagnosis testing techniques (Clark, 2017). This creates more pressure on the existing nursing schools to be able to produce large numbers of competent nurses who will improve the overall healthcare quality. Hence becoming a nurse educator will grant me the chance to become part of this big step in nursing as a profession and the improvement of healthcare across the globe.
Benchmark Assignment: Future scope, Role and professional obligations