Assignment: Week 8 Reflection on Nursing Program Essay
Assignment Week 8 Reflection on Nursing Program Essay
My overall objective for this nursing program was to provide high quality, safe, and patient-centered care grounded in holistic health principles. The core objective for the essential VII was applying an interprofessional collaboration for improving patient and population health outcomes. I achieved this objective by participating in the interprofessional teams, especially during patient rounds in inpatient units. As a member of the interprofessional team, I took the role of the patients' advocate. I advocated for the patients' rights and for their healthcare decisions to be respected when developing the management plan (Reeves et al., 2017). I further ensured that the decisions made on the treatment plan would have no adverse effects on the patients and would promote the best health outcomes possible.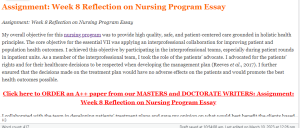 I collaborated with the team in developing patients' treatment plans and gave my opinion on what would best benefit the clients based on my assessment and interaction with the patients. I also consulted health providers from different professionals such as physicians,
pharmacists, nutritionists, and clinical psychologists on how to best manage patients presenting with various conditions. I did not only acquire more medical knowledge from my consultation with the health providers, but I also learned to approach patients' conditions from multiple directions other than a nurse's perspective (Reeves et al., 2017). I also learned to provide nutritional and psychological counseling from my interaction with nutritionists and psychologists.
The week eight objective was on ethics competencies. I met this objective by incorporating the four ethical principles of patient's right to autonomy, beneficence, non-maleficence, and justice while making decisions that affect patients (Esmaelzadehet al., 2017). I involved patients in planning for their care by informing them of the various treatment options available, the pros and cons of each option, and allowed them to decide on their preferred option. I then made decisions based on the patient's decision and also presented their decision to the interprofessional team. Besides, I evaluated every decision based on the ethical principles to ascertain that the decision would do good to the patient, would not cause harm, and that it was just (Esmaelzadehet al., 2017). Furthermore, I applied the principles when finding solutions for complex issues, particularly those concerned with patient care and also in the management of the health system in the organization.