Assignment: Translational Research Essay
Assignment Translational Research Essay
Translational research connotes implementation of knowledge from the essential biology and clinical trials to strategies and tools that tackles crucial medical requirements. The focus of translational research is to enhance health outcomes. This paper will explore the translational research authored by Kirkland (2016), titled "The Quest for a Vaccine Against Coccidioidomycosis: A Neglected Disease of the Americas." This article was chosen because it is concerned with Coccidioidomycosis also known as Valley Fever, a health problem which is increasingly gaining prominence in the United States. T2 translational research was used in this study. Amply, T2 translational research is defined as research to gather pertinent information necessary in developing or assessing techniques of translating outcomes from clinical researches to routine clinical practice and informing health decisions (Trochim, Kane, Graham & Pincus, 2011). Therefore, T2 translational research is the most appropriate type in this case because the aim of the study is to develop a vaccine against coccidioidomycosis and to emphasize on vaccine approaches and the challenges in recognizing protein antigen/adjuvant blending that safeguard in experimental mouse models (Kirkland, 2016). Therefore, T2 translational research will play important role in gathering vital information in assessing translation of results of this study into daily clinical practice and also informing decision making on the disease.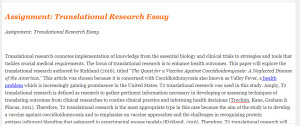 Translational research is deemed the most appropriate approach for finding a vaccine against coccidioidomycosis because it
strives to generate more meaningful, practical results that can directly favor human health. The objective of this approach is to move basic inventions faster and proficiently into clinical practice. Besides, the steps in the translational research are formulated to ensure that the inventions that develop into human trials are highly placed to succeed both in efficacy and safety. This reason explains the utilization of mouse in the research as a way of eradicating failures which eventually reduces the overall cost of establishing new products.
Using the GCU Library (notably the GCU Library: Nursing and Health Sciences Research Guide), find a database, journal, or other collection of resources that focuses on translational research. Select a population health problem or issue of interest from the available studies. What type of translational research is used for the study? Provide rationale as to why this is the best type of translational research is best for the study, and explain why translational research is the most appropriate approach for this problem or population.