Assignment: Supporting the Student Choice Adult Gerontology Nurse Practitioner
Assignment Supporting the Student Choice Adult Gerontology Nurse Practitioner
I believe that you have made the best decision to pursue something that you are passionate about since giving support and promoting health across the adulthood life cycle of a person means a lot. It explains the rationale behind many hours of academic training coupled with hands-on clinical experience.  Even after getting those credentials, practicing Advanced Nursing roles consumes a great deal of a person's life which means that choosing something that you love doing will help you to have a meaningful life and job satisfaction. The faculty stands out from the rest in the sense that someone will be able to train with a wide range of patient practice settings which entails transplant, oncology, cardiology, internal medicine, and intensive care and emergency department.  A good salary can be indeed a significant motivator when it comes to career choice since it contributes towards making life more comfortable.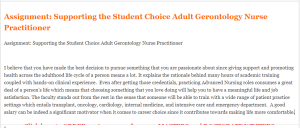 The Adult-Gerontology Acute Nurse Practitioner (AG ACNP) has now the legal capacity to diagnose and manage various medical conditions.  On top of that, currently, some of the AG ACNPs in collaboration with physicians and other members of staff
manage patients right from the admission to their discharge (Adult-Gerontology Acute Care Nurse Practitioner (AG ACNP) | UCSF School of Nursing, 2020).  You will have an opportunity to conduct follow up on patients in the outpatient setting by ensuring that there is a smooth transition from the hospital setting to the community environment (Kleinpell & Hudspeth, 2013). However, this depends on the collective agreement with the physicians and other members of the healthcare team.  The nephrology department has a high demand for nurses who can take of the elderly population which are the most affected by kidney failure issues such as chronic kidney injury.
Please follow the instructions below and also read the file attached to this order.
please share your thoughts on the speciality chosen (Adult-Gerontology Acute Care Nurse Practitioner) MSN chosen by the student by supporting their choice.
***************************************************
Respond to the post below share your thoughts on their specialty, supporting their choice or offer suggestions if they have yet to choose.
Be sure to offer support from at least 2 current, credible sources in each required response to classmates' main post and cite per APA.