Assignment  Strategic Organizational Supply Chain Management and Logistics
Assignment: Strategic Organizational Supply Chain Management and Logistics 
2.1 The essence of effective supply chain management to attain Al Faris company goals
Supply Chain Management (SCM) takes in practice the operational activities involved in the distribution of goods and products to the end consumer. SCM aims at attaining the customer satisfaction by ensuring that all functions in the provision of goods and services to a consumer is implemented in a cost effective manner and brings a positive profit margin to the organization as well. Therefore, any company aspiring to achieve their mission and objectives in a profitable way will have to have proper, functional and effective SCM.
Al Faris mission seeks to grant the industry the optimum lifting and temporary power supply solutions irrespective of the challenges in demand by offering satisfactory, safe and sustainable solutions in the best manner possible. Al Faris's operation being highly technical and requires involvement of high capital equipment with their operators, there is very high compliance to safety requirements at each stage of operation. The suppliers of Al Faris have to ensure compliance to Al Faris's QHSE standards and Al Faris also has to ensure that they meet the QHSE standards of the customers that they deal with every day. SCM in coordination and communication with the customers, suppliers and their QHSE department ensures that every safety aspects of the operation are effectively met thereby minimizing the Lost Time Injury (LTI). SCM through constant touch with the QHSE department and employees ensures that the safety policies of the customers they would be working for are properly understood and complied by them.
2.2 Linking Supply Chain and other Business functions in Al Faris enterprise
Supply chain management is a guideline that connects all the operations of the company functions. Al Faris organization is thereby tasked with pursing its objective to effectively manage the functions of the business. SCM acts as a link in the company core business process as illustrated in the diagram below;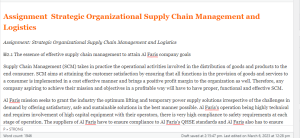 Sales and marketing department present their end year budget for approval to the management. Their forecast is then presented to
the SCM who calculates and estimates the coordination and operations that can meet the estimated sales and identify if there is need for an additional capital investment. The finance department prepares their capital budget and presents to the management. Similarly, the SCM coordinates with the finance to attain the terms of payments regarding the capital suppliers. The SCM coordinates with the operations department to testify any presence of labor force that would suffice the required manpower and ensure that fleet requirements are met to reach the right place at the right time. The SCM coordinates with the Human resource to identify if there is need for additional hiring for the company.
The purpose of this assignment is provides the learner with the understanding and skills to manage supply chain and use it as a tool to drive the organization towards achieving its strategic objectives.
This assignment will enable the learner to:
– Transform business from classic purchasing process to supply chain concept
– Manage supply chain to enhance the organization processes
– Use the organization resources efficiently and effectively
– Face the global challenges and the aggressive completion in the marketplace today
Scenario
You have been asked to submit a report to your Organisation's Board of Directors to present and get their approval on transforming from the current primitive purchasing practices to fully IT based integrated value addition supply chain management approach; in order to improve the overall performance of the organization and support future growth, expansion, and cost minimization. In your report include the following:
Note: Select an organization and undertake a full review of how it manages its supply chain and logistics. You will need to produce a report that includes how the management of the supply chain impacts on business performance, the role of IT in managing the supply chain, and the role of procurement and logistics management. The final part of the report will be a plan for a strategy to improve the organisation's supply chain and logistics management.[Report Format available: http://www.tidyforms.com/download/business-report-template-1.html]
Task 1
Understand the relationship between supply chain management (SCM) and organisational business objectives
LO 1.1. Explain the importance of effective supply chain management in achieving organizational objectives
LO 1.2. Explain the link between supply chain and other business functions in an organisation
LO 1.3.Discuss the key drivers for achieving an integrated supply chain strategy in an organisation
Task 2
Be able to use information technology to optimise supplier relationships in an organisation
LO 2.1. Evaluate the effectiveness of strategies used by an organisation to maintain supplier relationships
LO 2.2. Use information technology to create strategies to develop an organisation's relationship with its suppliers
LO 2.3.Develop systems to maintain anorganisation's relationship with its Suppliers
Task 3
Understand the role of information technology in supply chain management
LO 3.1. Assess how information technology could assist integration of different parts of the supply chain of an organisation
LO 3.2. Evaluate how information technology has contributed to the management of the supply chain of an organisation
LO 3.3. Assess the effectiveness of information technology in managing the supply chain of an organisation
Task 4
Understand the role of logistics and procurement in supply chain management
LO 4.1. Explain the role of logistics in supply chain management in an organisation
LO 4.2. Evaluate procurement practices in an organisation
LO 4.3. Discuss the factors that must be considered when improving logistics and procurement practices in an organisation
Task 5
Be able to plan a strategy to improve an organisations supply chain
LO 5.1. Plan a strategy to improve an organisation's supply chain
LO 5.2. Assess how a supply chain improvement strategy will benefit overall business performance in an organisation
LO 5.3. Explain how barriers will be overcome in an organization when implementing a supply chain improvement strategy
Grading
TogainaPASSgrade, astudentmust satisfactorilycoverthefollowing topics according to the Learning Outcomes mentioned above:
LO1.1 / 1.2 / 1.3: Understand the relationship between supply chain management (SCM)and organizational business objectives
Concepts: demand and supply management; push and pull models; enterprise resource planning (ERP); vendor managed inventory (VMI); efficient consumer response (ECR); value chains; lean supply; global SCM; contribution to business objectives
Development: physical distribution management; materials management; logistics management and SCM (upstream and downstream)
Organisational objectives and business functions: financial, marketing, sales, operational, manufacturing, human resource
Key drivers: facilities; inventory; transportation; information; sourcing; pricing; globalisation; technology; customer expectation
Integrated supply chain: strategic goals; culture change; roles and responsibilities of staff; organizational rationalisation; higher volume and speed of transactions; enhanced market position; reduced supply chain complexity; potential for smooth process operations following complex initial set-up; enhanced, lean and agile systems
LO 2.1 / 2.2 / 2.3: Be able to use information technology to optimise supplier relationships in an organization
Different types of relationship: allianceseg adversarial, developmental, collaborative, strategic; supplier development; e-tailing; business to business, business to consumer; intermediation and disintermediation; networks; supplier associations; supplier tiering; organisational networks; personal networks; auctions
Use of information systems: intranets; extranets and virtual private networks (VPNs) for supply chain integration; operational issues eg eliminating 'media breaks' to exchange supply information on a common digital platform; opportunity to use sales service staff in call centres dealing with supply exceptions; order processing, web-based EDI, tracking systems
Individual elements: the use of intranets and extranets in building value chains for organisations linked in the supply chain, order processing, web-based electronic data interchange (EDI), tracking systems
Differing applications for cost reductions and customer service: time compression, demand fulfilment, total cost of ownership reduction
LO 3.1 / 3.2 / 3.3: Understand the role of information technology in supply chain Management
Role of information technology: the internet; online communication systems; online business communities; decrease in transaction costs; closer buyer supplier relationships; improved purchasing, order processing, EDI, inventory management, production scheduling; Just in Time (JIT) programmes; tracking shipments; reducing lead times; information sharing; lean organisation
LO 4.1 / 4.2 / 4.3: Understand the role of logistics and procurement in supply chain management
Procurement: supplier selection; optimal procurement policies; reliability; quality
Logistics: role within supply chain management; planning; implementation and control of the movement and storage of goods; management of raw materials; link between the marketplace and operating activity of the organisation; customer satisfaction; coordination of materials and information flows; point of origin to point of consumption
LO 5.1 / 5.2 / 5.3: Be able to plan a strategy to improve an organisation's supply chain
Benefits: reduced stock holding; elimination of waste; improved customer service; reduced labour costs; improved manufacturing planning; Just in Time (JIT)
Barriers: inappropriate distribution networks; ineffective distribution strategies; trade-offs in logistical activity eg a full truckload of a product is ordered to reduce transportation costs resulting in increased inventory holding costs; inability to integrate processes through the supply chain to share information; poor inventory management; cash flow problems
Guidelines for the Assignment:
 Use standard Arial font size 11.
 Use 1.5-line spacing.
 Have a 2.5-centimeter margin on the left hand side of the page and a 2-centimeter margin on the right hand side.
 Include page number on the all the pages of the assignment.
 Headings: use 16-point Arial Bold for first level headings, and 14-point Arial Bold for second level headings. If a third level heading is required, use 12-point Arial Bold.
 Attach a completed Statement and Confirmation of Own Work to the front of the paper copy of your assignment.
 The first page of your assignment should be a title page, which should also state your Name, Edexcel BTEC ID number and the Name of the Centre where you are studying.
 The first page should also contain footer with page number, candidate's name, unit number, and submission date.
 Include a table of contents.
 Start each task on a new page and include the question at the top of the page.
 Ensure any diagrams, screen shots, PowerPoint slides, etc. fit correctly on the page and are referenced, for example, Fig. 1, Fig. 2, etc.
 Check spelling, grammar and punctuation.
 You should also ensure that you proofread your document, because the above checks do not always pick up every mistake.
 Use accurate Harvard referencing and include a bibliography.
 Ensure you are aware of the word limit for the assignment (2500-3500 word limit) and any regulations that apply if you exceed the word limit.
 Include the total word count at the end of the assignment.
 Mandatory submit to 'Turnitin' and in case the similarity percentage is more than 20% to revise till within the range of 20%.
Note:
All work must be submitted to LMS via soft copy; all assignments should be properly referenced.
________________________________________________________________________________________________
Textbooks
Chopra S and MeindlP .– Supply Chain Management: Strategy, Planning and Operation, 4th Edition (Pearson Education, 2009) ISBN 0136094511
Christopher M .– Logistics and Supply Chain Management, 4th Edition (Financial Times/Prentice Hall, 2010) ISBN 0273731122
Stadtler, H and Kilger C – Supply Chain Management and Advanced Planning: Concepts, Models, Software and Case Studies, 4th Edition (Springer, 2007) ISBN 3540745114
Chaffey D .– E-Business and E-Commerce Management: Strategy, Implementation and Practice, 4th Edition (Financial Times/Prentice Hall, 2009) ISBN 0273719602
Harvard Business Review on Managing the Value Chain (Harvard Business School Press, 2000) ISBN 1578512344
Harvard Business Review on Supply Chain Management (Harvard Business School Press, 2006) ISBN 1422102793
Turban T, Lee J K, King D, Liang T P and Turban D .– Electronic Commerce 2010: A Managerial Perspective, 6th Edition (Pearson Education, 2009) ISBN 0137034652
Fred Sollish, and John Semanik, The Purchasing and Supply Chain Guide to CPM -, 2005
Journals
European Journal of Purchasing and Supply Management (Elsevier)
The Journal of Supply Chain Management (Institute for Supply Management)
Supply Chain Management (Emerald)
Websites
www.cips.org Chartered Institute of Purchasing and Supply
www.emeraldinsight.com/journals.htm Supply Chain Management: An International Journal
www.iwvaluechain.com Industry Week.'s The Value Chain
www.logistics.about.com/mbody News about logistics and the supply chain