Assignment: Qualitative Research
Assignment Qualitative Research
The application of qualitative research in projects has been viewed with suspicions from the supports of quantitative research. Despite the two often being juxtaposed, the supporters of the former believe that the samples used in qualitative research is small and the authors of such studies are often biased (Chafe, 2017). However, studies have revealed that qualitative research possess immeasurable value regarding its application in several research project. Indeed, qualitative studies have a rich tradition in the study of type 2 diabetes in the minority populations. The general aim of qualitative studies in type 2 diabetes in minority populations entails the study of concepts that help us to understand behavioral dispositions, in any way possible, in natural settings as opposed to experimental settings. Qualitative studies will reveal the essence of certain modes of lifestyle vis-à-vis the prevalence of type 2 diabetes say in African-Americans.
Indeed, researchers have increasingly come to realize that the application of qualitative research methods such as observations, focus groups, interviews, case studies and consensus methods among others may help with the exploration of complex phenomena. To this end, qualitative research forms valuable additions to the methodological armory available to clinical researchers when it comes to
issues such as examining type 2 diabetes interventions in minority populations. In using the qualitative research methodology to address the clinical issue of interest that will form the present course, the researchers will seek to answer the question "what" will happen if African-Americans will reduce their caloric intake and also adopt a more active lifestyle (Smith, 2018). Indeed, qualitative study will seek to reveal the ongoing in the African-American populations vis-à-vis the type 2 diabetes by describing and consequently interpreting the phenomena. Therefore, qualitative study will have innumerable value to the present clinical area of interest.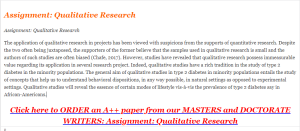 In thinking about your PICOT question for your MSN project, in your opinion and your experience with your area of interest, what value can qualitative research bring as you review the evidence to support your project?
NB:
My PICOT question: In type 2 diabetics between thirty and fifty (30-50) years old, how does the effect of a reduced caloric intake of 1500-2000 and 1200-1800 for males and females respectively and a 30 minute increase in physical activity affect hemoglobin A1C within an eight (8) week period