Assignment: Public Health Nursing Roles and The Principles of Epidemiology
Assignment Public Health Nursing Roles and The Principles of Epidemiology
The ecosocial epidemiology model provides insights into the cause effect relationship of a disease at various levels. One of the levels is the macro-level. This refers to the level where the contributing factors to a disease are beyond the control of individuals in the society. It mainly focuses on the system-wide factors that influence the development and progression of a disease. The selected disease in the earlier assignment was type II diabetes. The development of type II diabetes occurs due to the interplay between a number of factors at macro, micro, and meso-levels.  A number of factors should be considered for the development of the disease at the macro-level. One of them is ineffective healthcare systems. The healthcare system should be responsive to the health needs of the patients with type II diabetes (Nies & McEwen, 2018). There should be ready availability of diabetic medications, community support groups, and awareness programs that increase sensitization and empowerment of the public concerning the disease.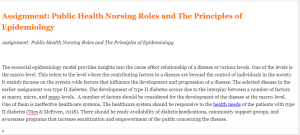 The macro-level of the selected disease also focuses on the effectiveness of the adopted policies to guide the management and
prevention of the disease. It is important that government agencies come up with policies that ensure read availability of resources to patients suffering from type II diabetes. There should be adequate financial resources channeled to the healthcare organizations to support the provision of optimum care to the patients suffering from the disease and those at a risk of its development. The macro-level also focuses on the inter-agency collaboration in the management of the selected disease. In this case, it is essential that other agencies such as governmental, non-governmental, and religious institutions be involved in addressing the disease in the community (Fink, Keyes & Cerdá, 2016). Therefore, the ecosocial epidemiology paradigm is important in providing macro-level understanding of the determinants of a disease in the society.