Assignment: Psychiatric Mental Health Practitioner
Assignment Psychiatric Mental Health Practitioner
The decision to pursue Psychiatric Mental Health Nursing is a brilliant one owing to the sharp increase in the demand for nurses that have advanced in this discipline. The U.S. healthcare system has now placed high importance on the program as it plays an essential role in improving the mental health of the country's population (Delaney, 2017).  The mainstream media has played an essential role in the normalization of mental health issues such as depression and PTSD which when coupled with the Affordable Care Act's facilitated provision of more funds on the same explains the increased demand for mental health nurses (Delaney & Vanderhoef, 2019).
The most recent research findings have it that 20% of the Americans are struggling with mental health issues despite the fact that the
majority of them do not get the help that they need due to poor access to care (Delaney & Vanderhoef, 2019). It is worth noting that the increased visibility of mental health problems especially PTSD in the aftermath of the Iraq and Afghanistan coupled with the depictions of depression in the media has contributed to the de-stigmatization of mental health issues.
as you have already worked with veterans that have various mental health issues.  You will contribute towards assessing the mental health needs of the communities, families or even better individuals.  PMHNPs have now the capacity to offer a broad spectrum of solutions such as prescribing medication as well as practicing psychotherapy (Delaney & Vanderhoef, 2019).  Additionally, it seems your passion for contributing towards improving the provision of mental healthcare services started way back while serving the veterans.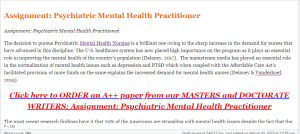 Please follow the instructions below the line and also read the student post attached as a file to this order. please share your thoughts on the speciality chosen by the student in this case its (psychiatric mental health nurse practitioner MSN) by supporting their choice.
***********************************************************
Respond to your colleagues' posts share your thoughts on their specialty, supporting their choice or offer suggestions if they have yet to choose.
Be sure to offer support from at least 2 current, credible sources in each required response to classmates' main post and cite per APA.