Assignment: Policies Affecting Practice and State of Health Care Delivery Essay
Assignment  Policies Affecting Practice and State of Health Care Delivery Essay
The major policy issues affecting the current state of health care delivery and population health equity in the US that will be discussed include payment reforms, ethical policies, and holistic care policies. To begin with, payment reform policy issues involve transition from fee for service to value based care payments (VBP). This policy is anchored on the need to reinvent healthcare delivery and achieve better patient engagement and successful treatments (Burwell, 2015). The traditional fee for services was criticized for promoting health care disparity since it did not consider models for specific conditions or treatments. However, VBP reforms fundamentally focus on ensuring bundled payment models that emphasizes on particular treatments or conditions and pay for performance models that clearly reward definite and measurable aspects of value (Burwell, 2015). Regarding the impact on advance nursing practice, VBP payment reform policy tend to arouse cost-consciousness behavior and coordination among nurses about services on a given condition or treatment.
The other issue is ethical policies. These are guidelines for clinicians to do the right thing and show high behavior standards in practice. Today, it is undeniable that health care system has evolved into a moral enterprise. As such, clinicians are required to take cognizance of ethical requirements to avoid adverse consequences such as legal fees (Kangasniemi, Pakkanen & Korhonen, 2015). Regarding the impact on advance nursing practice, ethical standards would enhance collaborative work and cooperation among nurses. Besides, ethical standards would also promote vital moral and social values including patients' rights, compliance with the law and regulations, patient safety, and social responsibilities. Importantly, better ethical policies leads to effective culture anchored on trust and transparency.
The other policy issue is patient-centered care (PCC). PCC is characterized by listening, informing, and making patients to be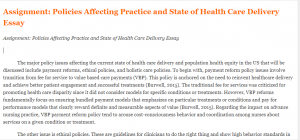 part of their care. This issue has permeated healthcare system and is constantly growing prominence with the promise to promote patient satisfaction and improve outcomes. The PCC has expanded to involve a cultural shift in care delivery that impacts advance practice nurses by ensuring they provide in a respectful, responsive manner based on patient's preferences, values, and needs.
Discussion 2
The selected current policy that focuses on population health is the Children's Health Insurance Program (CHIP). CHIP is a program provided by the United States Department of Health and Human services that allocates matching funds to states to help families with children access health insurance. This programs was established for uncovered children whose families' income are little but higher for Medicaid qualification (Perrin & Hall, 2015). Essentially, CHIP constitutes a crucial part of the United States health care system and it was particularly formulated to help in providing the coverage for children who come from underprivileged families with low-modest incomes. Consequently, the elements of this policy that makes it effective is its ability to provide a comprehensive coverage and financial safeguard to hundreds of millions of American children and also increasing their health care accessibility and utilization of recommended care. Besides, CHIP is also critical in lowering the disparities that are often widespread in health coverage and health care that has predominantly created dire impacts on low-income children.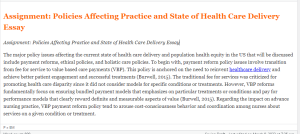 Concerning the history, CHIP which was initially known as the State Children's Health Insurance Program (SCHIP) grew out of several years of the US Congress pursuit for ways to enhance American health coverage.  The major factor that influenced the development of the CHIP was the nature of its design that was meant to cover the uninsured children from families that had modest incomes but high to be eligible for Medicaid (Committee on Child Health Financing, 2014). The program was passed into law as a component of the Balanced Budget Act of 1997, with its statutory authority found under title XXI of the Social Security Act.  CHIP was extended through the Children's Health Insurance Reauthorization Act of 2009 by expanding the coverage to additional four million children and pregnant women. Similarly, the Bipartisan Budget Act of 2018 ensured the program's authorization is extended to the year 2027.
Topic 7
Discussion Question 1
Identify three major policy issues that affect the current state of health care delivery and population health equity in the United States. What impact do these population health policies and initiatives have on advanced nursing practice?
Discussion Question 2
Select an effective current health policy that focuses on or affects population health. What components of this policy make it effective? Conduct research on its history and the factors that influenced its development.