Assignment: Nursing Diversity and Global Perspectives of Care
Assignment  Nursing Diversity and Global Perspectives of Care
Comprehending one's personal worldview is important as it allows one to examine all aspects of life around them and their place in it. My worldview is specifically influenced by religion since I believe that every person has a particular purpose in life. Thus, since one is given this purpose by God, they have to anticipate it throughout their entire life and effectively implement it. As such, in order to do that, one needs to have cultural and spiritual competence. In order to successfully implement their goals, one needs to exhibit excellent cultural competence such as caring in nursing (Porter-O'Grady & Malloch, 2016). Additionally, one needs to demonstrate spiritual competence led by having faith in God that they will achieve their goals. Therefore, cultural and spiritual competence play an integral role in the achievement of my personal worldview.
My worldview and cultural and spiritual competence will have an important role to play in my future practice and role. Indeed, DeNisco and Baker (2016) postulate that nurse educators have an important role to play in molding the beliefs of their students.  Therefore, drawing from this assertion, I will inculcate into them the view that nursing is a calling. As such, they will need to believe that doing the course was their purpose in life and as such use cultural competence to cultivate excellent interprofessional relationships. This is fundamental given that caring is the central tenet of the profession (In Baird, 2016) and as such, they will need to have cultural and spiritual competence to succeed in providing safe and quality care to multifarious populations. The spiritual competence will also affect my practice as I will be having faith in God whenever I undertake nursing duties away from my class duties.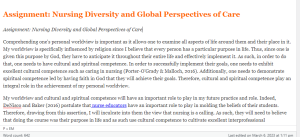 Advanced nursing practice has continued to leverage the usage of nursing theories as a tool. Two of the most fundamental nursing theories that have received widespread application in advanced nursing practice include Orem's Self-Care Theory and Jean Watson's
Theory of human caring. These two theories vary based on their intent, scope and goals. Orem's Self-Care theory is organized and also properly structured in three categories including the process of nursing, the self-care deficit, and self-care (In Alligood, 2014). Watson's theory of human caring on the other hand is complex as numerous of the notions involved herein propose theoretical examinations concerning the definitions of spirituality, healing, growing, morality, caring as well as what is regarded human (Sitzman & Watson, 2014). The theory espoused by Watson offers a framework which embraces humanities, science, spirituality, and art that are contingent upon abstract and biased perceptions. The objective of Watson's theory entails utilization of abstract and biased undertaking to in the usage of transpersonal caring as he states that the rapport between a patient and a nurse depends on the nurse inspiring hope and faith to the patient. However, Orem's theory's objective rests on the usage of evidence-based practice to undertake various nursing practices. Therefore, the two theories differ based on their scope, objective, and intent.
Based on the above differences, I believe that Orem's Self-Care Theory may be more relevant in my future practice as a nurse educator. The reason for this is that it encompasses objectivity in its operation. The theory has been shown to outline structural foundation concerning many evidence-based practices including the process of nursing (In Alligood, 2014). This occurs through evaluation of the process via researching objective statics in health care environment and patient results. Orem's theory thus supports the assertion made by DeNisco and Baker (2016) that theory should be used to guide nursing practice. Therefore, Orem's Self-Care Theory appears more suited to my future practice.