Assignment Hypothesis Testing and Confidence Interval Essay
Hypothesis testing and confidence intervals are widely used in healthcare research. Hypothesis testing is used to determine if a pre-developed hypothesis in a quantitative research is true or not (Thomas, 2019). The confidence interval on the other hand refers to the computed statistic that might represent the actual value of a population parameter. It represents the probability of the fact that the reported statistic contains the true value of the unknown parameter that was being tested in a research (Ithapu, 2018). Confidence interval and hypothesis testing have significant use in nursing research. They are used to determine the relevance of quantitative researches in nursing.
A clinical researcher can use them to determine the effectiveness of a care approach or concept in nursing practice. For instance, a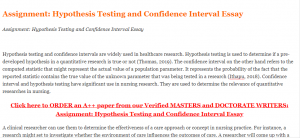 research might set to investigate whether the environment of care influences the outcomes of care. A researcher will come up with a hypothesis that will be proven after data analysis is performed. The hypothesis will rejected if the p-value is greater than the used value in the research. Similarly, confidence interval will be computed to determine whether the reported statistic represent the true population parameter of the population that was not part of the research. Therefore, a researcher will develop conclusions based on the findings of hypothesis testing and confidence interval.
There is also a correlation between confidence interval and hypothesis testing that is applicable to clinical research. For instance, a clinical research will know that the developed null hypothesis will be rejected if it falls outside the stated confidence interval. Similarly, a clinical researcher will reject the null hypothesis if it falls within the developed null hypothesis (Goodman, 2018). Consequently, it makes it evident that both hypothesis testing and confidence interval can be used by researchers in healthcare settings.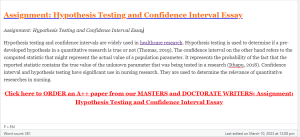 Evaluate and provide examples of how hypothesis testing and confidence intervals are used together in health care research. Provide a workplace example that illustrates your ideas.