Assignment: Evolving Practice of Nursing and Patient Care Delivery Essay
Assignment  Evolving Practice of Nursing and Patient Care Delivery Essay
There have been notable changes in the U.S. system of health care, which no longer just focuses on the curative care but health and preventing diseases as well. Consequently, the new healthcare reform is characterized by an approach focused on the creation of healthcare delivery models with the changing role of nursing to community health care from the previously predominant acute care settings. Continuity implies that delivery takes place when care is provided at all stages and levels and over a period of time. Three elements make up the changing health care delivery system. These components are the accountable care organizations, medical homes, and health centers managed by nurses. The 2010 Affordable Care Act supports new payment policies, as well as the establishment of health clinics managed by nurses, medical homes, and Accountable Care Organizations (Bartels, Gill & Naslund, 2015). The legislation has resulted in transformation from the traditional approach to treatment to wellness and preventive care. The role of nurses has also changed from front-line health care givers to the care coordinators and integrators. Today, nurses help in providing underserved people with health services. All the health models center upon the continuity or continuum of care, implying that they involve an integrated care system that tracks and guides patient over time using a broad range of health services provided at every level of care.
Accountable Care Organizations
Accountable care organizations consist of providers of health care, hospitals, and physicians who, on their own accord, provide Medicare patients with high quality and coordinated care. Accountable care organizations make up the new unit established by the Affordable Care Act; the 2010 law that introduced massive health reforms. The law requires accountable care organizations to take care of the quality and cost of care that patients receive (Shortell et al., 2015). These organizations primarily aim to deliver excellent and flawless care to patients at the appropriate time, particularly those who are chronically ill. Accountable care organizations consist of specified group of suppliers and providers that the Affordable Care Act has approved to promote active participation of physicians and physician associates, clinical nurse specialists, and nurse practitioners. In accountable care organizations, nursing leadership is accentuated, implying that registered nurses can develop improvement initiatives and lead in quality assurance.
Medical Homes
Patient-centered medical homes work in the same manner as Accountable Care Organizations. Their aim is to deliver primary care that is ample, accessible, patient-centered, synchronized, managed, and established upon safety and quality.  The medical home is a framework rather than a final destination that helps achieve excellence in primary care, which implies that patients can receive care in a manner that addresses all the needs of the patient at the appropriate time and in the apposite place (Patient-Centered Primary Care Collaborative, 2019). This model solves the problem of health care costs and relies on the work of primary providers of care, including licensed nurse-midwives, NPs, and physicians. Since nurses are front-line healthcare providers, they have a critical role in this model because they participate actively in referring patients who require specialized care, disease prevention, health promotion, as well as ordering and interpreting laboratory tests or studies.
Nurse-Managed Health Centers
Health centers managed by nurses constitute an important model in healthcare reform. They were established by Affordable Care Act.
They are engaged in the promotion of primary care, control of chronic illnesses in the rural areas and medically underserved parts of the U.S., as well as disease prevention. The management of these centers is done by all the nurse clinicians, nurse midwives, nurses in public health, and specialists in clinical nursing. These professionals provide numerous health services that mostly focus on deserving communities, including diagnosing and prescribing to illness, referral to specialists, as well as post- and pre- natal care (Auerbach et al., 2013). In this care model, the nurse-managed clinics help in enhancing access to primary care for vulnerable populations or medically underserved communities. Similarly, the model boosts up nursing leadership and practice for nursing students because the centers maintain workforce and patient data and serve as important clinical training sites.
In conclusion, health centers managed by nurses, accountable care organizations, as well as medical homes constitute the new ACA health care delivery model meant to address issues related to access of quality health care and medical homes. The models are primarily competent, patient-centered, cost effective, and accessible. Their development has significantly changed the nursing role and created new standards for nurses. Nurses no longer have to serve as front-line healthcare workers only; they work as efficiency experts and care coordinators. Their role is critical in the success of the above healthcare models (McClelland, 2017). They work as care integrators and contribute significantly to continuum care in community health and acute care settings. Similarly, besides health reforms and major advancements in health technology, nurses play an increased role in preventive care, which is accentuated more than curative care. Thus, the nursing role is gaining increasing demand, which necessitates more professional, skilled, and educated nurses to ensure that changes in the health care system are implemented successfully.
Summary of Three Nurse Colleagues' Feedback
Three nurse colleagues provided feedback on the changes and benefits of the new American health system. The feedback centered upon the three healthcare models that have expanded the role of nursing. This section will summarize the feedback and provide a forecast of the future nursing role. Two of the nurse colleagues agreed with my view regarding the changing role of nursing. The three of them support the reform in health care, which seeks to expand care accessibility and centers more on disease prevention than cure. However, one of them foresees problems with the new healthcare models. The nurse colleagues are from Brooklyn Hospital Center's surgical/rehab unit. In this medical facility, nurses provide services that ensure continuity of care, which the health reform in the U.S. is promoting. The facility focuses more on the Brooklyn area and provides care using a multidisciplinary approach. It has created some standards of excellence that nurses must comply with to ensure the best care. Nurses in this facility are innovators and leaders who focus on improving care provision in Brooklyn. The hospital provides a supportive work environment for nurses and latest technologies that greatly improve care provision.
The first nurse who provided feedback came to the United States several years ago from Afghanistan. He described his nursing experience in Afghanistan, saying that in the country, nurses are strictly front-line care givers and do not make critical decisions in healthcare. They follow the directions of physicians. This nurse says that the role of nursing differs with time and place. She agrees that the role of community health has increased with the current health reforms in the U.S. This implies that nursing is becoming increasingly important in the country. The nurse states that the health care systems of other countries are adopting reforms similar to that of the United States, which provides more opportunities for the nursing career. The nurse is optimistic about the health reform and the three healthcare models. He supports the increasing role of nurses in community care and decreased role in acute care settings. Health centers managed by nurses are critical in achieving the goals of community-based care. Nurses can make critical decisions independently in the community settings. In such contexts, nurses are self-directed and can engage in critical thinking. The nurse's feedback mostly focuses on nurse-managed health centers, where nurses play leadership roles in health planning, provision, and policy. Thus, the new healthcare reforms have provided a different perspective to the role of nursing, which is now contributing innovative ideas that greatly ameliorate care provision.
The second nurse colleague has also recognized the benefits provided by health reform in the U.S. She agrees that nurses have an essential role in transforming healthcare. She believes that reform is important in the management of chronic diseases, where prevention works better thank curative measures.  Medical homes, health centers managed by nurses, and accountable care organizations help in preventing of chronic conditions in the community settings. The models are critical in making the public aware of the need to prevent chronic diseases and reducing the cost burden posed by treatment measures. Preventive care also implies more opportunities for nurse practitioners, who will take more leadership and other positions. Thus, reform helps in providing a better structure to the healthcare system, with nursing playing more specialized roles. The reforms also ensure that health care provision is centered more on the patient, which is critical in improving outcomes in healthcare. Nurses can have a role in collaborating with other healthcare providers and be innovative on strategies that improve health care. This nurse is confident that the new healthcare delivery models are reaching more underserved people, which is a significant benefit.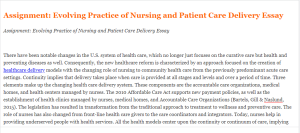 The third nurse who provided feedback has a slightly different view about the American healthcare reform and the three inherent models. While he is hopeful about improvement in healthcare services, he is anxious about what will happen to the quality of care when the models attracts more patients. Hospitals will have more patients when the models operate on a full scale, which might result in problems with efficiency in care provision. Managing an increased number of Medicare patients will involve a lot of paperwork and will result in increased administrative cost. Care and disease management will also present increases in cost, as well as a deficit in nursing providers. Quality of care necessitates matching the needs of the reform with more trained and qualified nursing providers. Therefore, according to this nurse, healthcare reform should focus on quality rather than quantity.
In conclusion, nurses contribute the most to implementing reforms in the health care system. Their role has changed and expanded over the years following the creation of new health care delivery models. The entire U.S. health care system has changed from acute care to community settings, which has provided benefits for many underserved people. Nevertheless, it is imperative to ensure that information and knowledge regarding the health reforms is provided to everyone to ensure smooth transition from the old to the new system. The feedback by the three nurse colleagues accentuate the need for the reforms in the U.S. healthcare system, but it is imperative to ensure that there are more nurses to ensure quality healthcare outcomes in the future.
Evolving Practice of Nursing and Patient Care Delivery Models
As the country focuses on the restructuring of the U.S. health care delivery system, nurses will continue to play an important role. It is expected that more and more nursing jobs will become available out in the community, and fewer will be available in acute care hospitals.
Write an informal presentation (500-700 words) to educate nurses about how the practice of nursing is expected to grow and change. Include the concepts of continuity or continuum of care, accountable care organizations (ACO), medical homes, and nurse-managed health clinics.
Share your presentation with nurse colleagues on your unit or department and ask them to offer their impressions of the anticipated changes to health care delivery and the new role of nurses in hospital settings, communities, clinics, and medical homes.
In 800-1,000 words summarize the feedback shared by three nurse colleagues and discuss whether their impressions are consistent with what you have researched about health reform.
A minimum of three scholarly references are required for this assignment.
While APA format is not required for the body of this assignment, solid academic writing is expected and in-text citations and references should be presented using APA documentation guidelines, which can be found in the APA Style Guide, located in the Student Success Center.
This assignment uses a rubric. Please review the rubric prior to beginning the assignment to become familiar with the expectations for successful completion.
You are required to submit this assignment to LopesWrite. Please refer to the directions in the Student Success Center.
For assignments that need to be submitted to Lopes Write, please be sure you have received your report and Similarity Index (SI) percentage BEFORE you do a "final submit" to me.
Once you have received your report, please review it. This report will show you grammatical, punctuation, and spelling errors that can easily be fixed. Take the extra few minutes to review instead of getting counted off for these mistakes.
Review your similarities. Did you forget to cite something? Did you not paraphrase well enough? Is your paper made up of someone else's thoughts more than your own?
Visit the Writing Center in the Student Success Center, under the Resources tab in LoudCloud for tips on improving your paper and SI score.
Late Policy
The university's policy on late assignments is 10% penalty PER DAY LATE. This also applies to late DQ replies.
Please communicate with me if you anticipate having to submit an assignment late. I am happy to be flexible, with advance notice. We may be able to work out an extension based on extenuating circumstances.
If you do not communicate with me before submitting an assignment late, the GCU late policy will be in effect.
I do not accept assignments that are two or more weeks late unless we have worked out an extension.
As per policy, no assignments are accepted after the last day of class. Any assignment submitted after midnight on the last day of class will not be accepted for grading.
Communication
Communication is so very important. There are multiple ways to communicate with me:
Questions to Instructor Forum: This is a great place to ask course content or assignment questions. If you have a question, there is a good chance one of your peers does as well. This is a public forum for the class.
Individual Forum: This is a private forum to ask me questions or send me messages. This will be checked at least once every 24 hours.
Important information for writing discussion questions and participation
Welcome to class
Hello class and welcome to the class and I will be your instructor for this course. This is a -week course and requires a lot of time commitment, organization, and a high level of dedication. Please use the class syllabus to guide you through all the assignments required for the course. I have also attached the classroom policies to this announcement to know your expectations for this course. Please review this document carefully and ask me any questions if you do. You could email me at any time or send me a message via the "message" icon in halo if you need to contact me. I check my email regularly, so you should get a response within 24 hours. If you have not heard from me within 24 hours and need to contact me urgently, please send a follow up text to
I strongly encourage that you do not wait until the very last minute to complete your assignments. Your assignments in weeks 4 and 5 require early planning as you would need to present a teaching plan and interview a community health provider. I advise you look at the requirements for these assignments at the beginning of the course and plan accordingly. I have posted the YouTube link that explains all the class assignments in detail. It is required that you watch this 32-minute video as the assignments from week 3 through 5 require that you follow the instructions to the letter to succeed. Failure to complete these assignments according to instructions might lead to a zero. After watching the video, please schedule a one-on-one with me to discuss your topic for your project by the second week of class. Use this link to schedule a 15-minute session. Please, call me at the time of your appointment on my number. Please note that I will NOT call you.
Please, be advised I do NOT accept any assignments by email. If you are having technical issues with uploading an assignment, contact the technical department and inform me of the issue. If you have any issues that would prevent you from getting your assignments to me by the deadline, please inform me to request a possible extension. Note that working fulltime or overtime is no excuse for late assignments. There is a 5%-point deduction for every day your assignment is late. This only applies to approved extensions. Late assignments will not be accepted.
If you think you would be needing accommodations due to any reasons, please contact the appropriate department to request accommodations.
Plagiarism is highly prohibited. Please ensure you are citing your sources correctly using APA 7th edition. All assignments including discussion posts should be formatted in APA with the appropriate spacing, font, margin, and indents. Any papers not well formatted would be returned back to you, hence, I advise you review APA formatting style. I have attached a sample paper in APA format and will also post sample discussion responses in subsequent announcements.
Your initial discussion post should be a minimum of 200 words and response posts should be a minimum of 150 words. Be advised that I grade based on quality and not necessarily the number of words you post. A minimum of TWO references should be used for your initial post. For your response post, you do not need references as personal experiences would count as response posts. If you however cite anything from the literature for your response post, it is required that you cite your reference. You should include a minimum of THREE references for papers in this course. Please note that references should be no more than 5 years old except recommended as a resource for the class. Furthermore, for each discussion board question, you need ONE initial substantive response and TWO substantive responses to either your classmates or your instructor for a total of THREE responses. There are TWO discussion questions each week, hence, you need a total minimum of SIX discussion posts for each week. I usually post a discussion question each week. You could also respond to these as it would count towards your required SIX discussion posts for the week.
I understand this is a lot of information to cover in 5 weeks, however, the Bible says in Philippians 4:13 that we can do all things through Christ that strengthens us. Even in times like this, we are encouraged by God's word that we have that ability in us to succeed with His strength. I pray that each and every one of you receives strength for this course and life generally as we navigate through this pandemic that is shaking our world today. Relax and enjoy the course!
Hi Class,
Please read through the following information on writing a Discussion question response and participation posts.
Contact me if you have any questions.
Important information on Writing a Discussion Question
Your response needs to be a minimum of 150 words (not including your list of references)
There needs to be at least TWO references with ONE being a peer reviewed professional journal article.
Include in-text citations in your response
Do not include quotes—instead summarize and paraphrase the information
Follow APA-7th edition
Points will be deducted if the above is not followed
Participation –replies to your classmates or instructor
A minimum of 6 responses per week, on at least 3 days of the week.
Each response needs at least ONE reference with citations—best if it is a peer reviewed journal article
Each response needs to be at least 75 words in length (does not include your list of references)
Responses need to be substantive by bringing information to the discussion or further enhance the discussion. Responses of "I agree" or "great post" does not count for the word count.
Follow APA 7th edition
Points will be deducted if the above is not followed
Remember to use and follow APA-7th edition for all weekly assignments, discussion questions, and participation points.
Here are some helpful links
The Writing Center is a great resource