Assignment Enhancing Patient and Family-Centered Care Essay
Patient-centered care stems from a collaboration between a patient and a health care team. Patient-centered care refers to care that respects the values, needs and preferences of patients, uses a biopsychosocial perspective instead of relying on the biomedical perspective and creates a strong relationship between the clinician and the patients (Millenson, Shapiro, Greenhouse & DiGioia III, 2016). Business practice points out whether an organization delivers patient-centered care. For instance, patient-centered care is manifested when doctors stop relying on diagnosis and focus on the patient's problem. Making care patient-oriented creates trusted, personal relationships between doctors and patients. Employing tools like 24/7 online portals increase patient engagement and the use of wearable technology enables patients to track parameters like cholesterol, glucose levels, blood pressure and weight all of which enhance patients centered care. Equally, the use of strict visiting hours and visitors' restriction negates patient-centered care. Hospitals should ensure that patients can decide who to visit and when and invite family members during rounding and shift changes (Millenson, Shapiro, Greenhouse & DiGioia III, 2016). Lastly, the use of personalized medicine is a practice that portrays patient-centered care and it helps clinicians to predict drugs that suit their patients.
Regulatory requirements have also enhanced the adoption of patient-centered care. A law that has impacted PCC is the Health Information Technology for Economic and Clinical Health Act. Under meaningful use regulatory standards, hospitals are supposed to advance the electronic engagement of patients and ensure access to an online medical record (Millenson & Berenson, 2015). The Act allows patients to contribute to their data and providers are expected to incorporate patient-generated health data in their EHR clinical information. Failure to meet the criteria attracts a penalty. The Affordable Care Act (ACA) offers initiatives like patient satisfaction, patient and family engagement, and patient experience of care all of which enhance PCC (Millenson & Berenson, 2015). For instance, organizations desiring to join the Medicare Shared Saving Program have to explain how evidence-based medicine and patient engagement will be promoted.
Reimbursement and patient-centered care are intertwined. The revenue cycle management of a hospital relies on value-based care reimbursement which creates a patient-centered healthcare setting. Reimbursement redefines performance on what is essential to patients and reduces patient suffering because it indicates how interdependent streams of quality impact its outcome (Novikov et al., 2018). It also fosters an environment that is safe for patient and care providers and promotes compassionate connected care.
Patient and Family-Centered Care Tool (Appendix A)
Setting Description
Good Samaritan Hospital Medical Center is a 537-bed not for profit hospital that offers both inpatient and outpatient services (GSHMC, 2020). The facility main focus is chronic disease prevention by providing nutrition and weight management services, improving cancer patient outcomes by providing a comprehensive array of educational, preventative, diagnostic and treatment services and facilitating referral to appropriate resources to help in identifying and treating mental health issues. The hospital serves a community of 850, 000 individuals who come from Suffolk County's south shore and part of southeastern Nassau County. According to the discharge data, 15.19% of patients served are of Spanish or Hispanic origin, 84.385 are from a non-Spanish or Hispanic origin and only 0.03 are from an unknown origin. Seven percent of the patients are below the federal poverty level and at least 19% are foreign-born. The hospital has 850 physicians, 1,300 nurses and more than 2,000 support staff who are committed to providing the best diagnostic, treatment and preventative care. GSHMC aims to become the preferred healthcare system in the region.
Strengths and Weakness of the Organization
Domain
Strength
Weakness
Leadership/Operations
The organization's aim is to become the preferred healthcare system which indicates an inclination towards patient/family-centered care.
The organization does not include patients and families in the generation of policies, guidelines, programs and procedures as well as Governing Board activities.
Mission, Vision, Values
The mission, vision, and values align with patient-centered care.
No weakness noted.
Advisors
Patients and families participate in quality and safety rounds. Family members are spotted during morning rounds and they are involved in the development of the patient plan of care and treatment.
Neither the patients nor their families serve on advisory councils or hospital committees.

Quality Improvement
Patients/families interviewed during walk-rounds to establish their concerns and address them. They are also involved in quality, safety and risk meetings. Their voices adopted in strategic and operational goals.
Patients/families have minimal participation in the task force and QI teams and they rarely attend IHI, NPSF and other meetings.
Personnel
Staff receives training on supporting patient/family-centered care practice.

No collaboration in coming up with job descriptions or policies in the performance appraisal process. Patients and families are not involved in interview teams and they are not incorporated during new employee orientation.
Environment & Design
A collaborative approach is supported since all parties are involved in the care process.
Evidence lacks on the participation of patients and families in clinical design projects.
Information/Education
Patients access resources from web portals, they can email clinicians and access resource rooms within the hospital.
Evidence of patients or families serving as educators/faculty for clinicians and other staff lacks.
Diversity & Disparities
The hospital offers reports in race, ethnicity and language and ensures that interpreters are available. They have created programs that target minority and underserved patients.
Mild weakness is observed in education materials since they are not tailored to suit various patients served.
Charting and Documentation
Patients and families can access their electronic records.
Limitations exist on what patients can chart and document.
Care Support
Patients/families enjoy

24/7 access and are part of rounds and shift reports. A patient medication history is updated on every visits and family is encouraged to be present during rescue events. Support, disclosure and apology are provided in case of an error.

Patient/families cannot activate a rapid response system.
Care
A collaboration between clinicians, patients and family is noted. Family/patients are partners to care and families are involved in care planning and transitions. Pain is also managed in partnership.
No weakness is present in this domain.
Good Samaritan Hospital Medical Center is working hard to ensure that it offers patient and family-centered care. According to the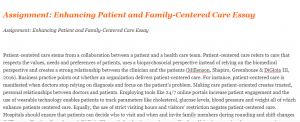 strength and weaknesses, the hospital has scored well in the four guiding principles entailing respect and dignity, information sharing, participation and collaboration. Nevertheless, a weakness is noted in the personnel domain because the hospital does not collaborate with patients and families in job descriptions and policies in the performance appraisal process. Additionally, patients do not participate in interview teams and search committees.
Improvement Strategy
The ideal approach to ensure that patients and families participate in personnel recruitment is creating a hiring process that uses the PFCC interview tool and fosters collaboration with patients and family partners (PFP's) when interviewing candidates for healthcare positions (Thomsen & Hølge-Hazelton, 2019). The strategy is ideal because hiring new employees offers an opportunity to set expectations on patient and family engagement. The involvement of patients and family members in the interview process ensures that new employees understand the need to adopt patient and family-centered care.  Hiring staff who are committed to PFCC can reduce the high cost of staff turnover.
System or Change Theory
The use of the PFCC interview tool (PFCCIT) will be adopted using Kurt Lewin's change theory. The theory provides three stages that optimize the success of the implementation process. The three are unfreezing, change and refreezing (Cummings, Bridgman & Brown, 2016). The unfreezing stage helps in breaking the status quo, communicating the need for change and ensuring that the strategy gets a buy-in. It is clear that the organization does not use PFCCIT during interviews, the hiring panel will be informed on the need to use the tool and supporting literature will be provided. After the panel has accepted the tool, the change stage will start which will ensure that the PFCCIT is incorporated during interviews and PFPs are part of the process. The refreezing stage will follow and the effects of the PFCCIT and PFP's will be evaluated and policies drafted to make them part of the hiring process.
Financial Implications
The project has minimal financial implications since the proposed strategy will be adopted in the current hiring process. The patient and family partners will be trained on interview practices and oriented to the PFCCIT and role of the interview panel. The trainers will be compensated. The PFPs will not be compensated but reimbursement for mileage, parking or transit will be offered (Charlton et al., 2015). During the evaluation of the strategy, interview candidates will be given a $25 incentive to help them offer their view on the use of PFCCIT and PFP's in the hiring process.
Method of Evaluation
The impact of the PFCCIT and PFP involvement in staff hiring will be evaluated using an online survey for the interviewed candidates as well as semi-structured interviews for the organization leaders and PFPs involved in the hiring process (Charlton et al., 2015). The online survey will provide seven Likert-scale questions and an open-ended question dealing with PFCC policies and involvement of PFPs in the interview panel. The organization leaders will answer questions on whether PFFCIT and inclusion of PFPs add value to the interview and hiring process. The PFPs will be asked similar questions to the leader but they will also answer whether they feel their feedback during the interview is valued by the leaders.
I will attach Patient-and Family-Centered Care Organizational Self-Assessment Tool and rubric in the manage orders section
INTRODUCTION
Healthcare is a complicated system that includes unique economic processes, regulatory requirements, and quality indicators that are not found in traditional business settings. Therefore, developing unique skill sets relating to organizational leadership and interprofessional team development is essential for leaders within the healthcare industry at any level. As the complexity within the healthcare industry increases, it is important to understand the comprehensive approach to patient care management across the continuum and how the concepts of organizational leadership and team development support leaders in creating a patient-centric environment.
The purpose of this assessment is to provide a framework through which you can experience and understand the unique leadership concepts within healthcare and understand the implications of business and regulatory requirements in providing patient-centered care. You will use a system theory or a change theory, self-assessment tools, and team development concepts to design a strategy to increase patient-centered care. Using leadership concepts and theories, you will ensure a sustainable model of healthcare delivery throughout the changing healthcare system that considers future trends, evidence-based practice, and regulatory expansion.
For this assessment, you will use the attached "Patient-and Family-Centered Care Organizational Self-Assessment Tool," to analyze how patient- and family-centered the healthcare setting is. This form will guide you in evaluating this healthcare setting for strengths and weaknesses in patient-centered care attributes. Based on your analysis, you will create a strategy to improve patient-family-centered care.
REQUIREMENTS
Your submission must be your original work. No more than a combined total of 30% of the submission and no more than a 10% match to any one individual source can be directly quoted or closely paraphrased from sources, even if cited correctly. An originality report is provided when you submit your task that can be used as a guide.
You must use the rubric to direct the creation of your submission because it provides detailed criteria that will be used to evaluate your work. Each requirement below may be evaluated by more than one rubric aspect. The rubric aspect titles may contain hyperlinks to relevant portions of the course.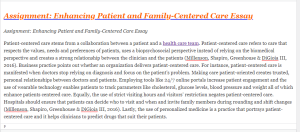 Professional Communications is a required aspect to pass this task. Completion of a spell check and grammar check prior to submitting your final work is strongly recommended.
Note: Any information that would be considered confidential, proprietary, or personal in nature should not be included. Do not include the actual names or other personally identifiable information of people or stakeholders involved. Fictional names should be used. Also, agency-specific data, including any financial information, should not be included but should be addressed in a general fashion as appropriate.
A. Analyze how business practices, regulatory requirements, and reimbursement impact patient-family-centered care within a healthcare organization.
B. Complete the attached "Patient-and Family-Centered Care Organizational Self-Assessment Tool" (PFCC) for a healthcare organization.
Note: The PFCC tool is a subjective tool used to assess the organization you have chosen.
1. Describe the healthcare setting you used in the PFCC.
Note: Please include the type of facility, the services provided by the facility and the diverse ethnic groups cared for by the facility.
2. Using the completed PFCC tool, describe the strengths and weaknesses of the organization for each domain.
C. Identify one area of improvement from the weaknesses identified in part B2.
1. Create a strategy to increase patient-centeredness in the organization by addressing the weakness from part C.
a. Discuss how you would apply either system theory or change theory in the development of your strategy to address the chosen weakness.
Note: The strategy should include the development of a multi-disciplinary team and how patient-family centered care can be improved.
2. Discuss the financial implications of implementing this strategy.
3. Discuss the methods you will use to evaluate the effectiveness of your strategy.
D. Create a multidisciplinary team by identifying the following:
• potential members that will assist you in implementing the identified strategy
• The role of each team member
1. Discuss how cultural diversity within the team supports patient-centered, culturally competent care.
2. Using one of the leadership theories below, discuss the leadership style you would utilize in developing your team:
• transactional leadership
• transformational leadership
• emotional leadership
• traditional leadership
3. Discuss how the team will work together to implement the strategy to address the weakness identified in part C1.
4. Describe how the team will communicate the identified strategy and intended outcomes to the healthcare organization.
5. Describe a specific tool you could use to develop the team's self-assessment skills.
E. Acknowledge sources, using APA-formatted in-text citations and references, for content that is quoted, paraphrased, or summarized