Assignment: Contemporary Nursing Practice Essay
Assignment Contemporary Nursing Practice Essay
Nursing practice has drastically changed from nurses having very little training, and nursing involved women taking care of the sick. When nursing began, it was not considered a profession, nor was it respected since nurses were women, and being a woman was not perceived as a respectable gender (Keeling, 2015). Nursing was more of an extension of the roles women played at home of taking care of their families, and skills were passed down from mother to daughter with no formal training. There have been radical changes in the nursing field that have significantly contributed to the efficient delivery of healthcare services. The purpose of this essay is to discuss the evolution of nursing and current nursing practice.
Evolution of Nursing Practice
Nursing training has evolved, and nurses today have in-depth training, and there are specific qualifications for one to become a nurse. There is currently a wide range of nursing training programs and specialties with nurses having trained up to the Doctor of Nursing program (Keeling, 2015). Besides, nurses are offered different practicing licenses depending on their level of education. The care setting for nurses was mostly in battlefields and homes, but the setting has now changed to consultation offices, hospitals, home-based care services, schools, and correctional facilities.
Nursing responsibilities in the past involved offering only basic care services such as dressing, cleaning patients, and nurses worked under doctors' instructions (Masters, 2018). Nursing training programs have changed the scope of practice for nurses over time with their responsibilities now involving patient assessment, making diagnoses, prescribing treatment, performing complex procedures offering emergency care independently (Masters, 2018). Nursing is an independent profession, and education qualifications dictate the scope of practice.
Practice competencies of an associate vs. baccalaureate education in nursing
To become a registered nurse, one can pursue an Associate Degree in Nursing (ADN) program or a Bachelor's of Science in Nursing (BSN) program. Both programs include courses that train nursing students on the competencies of nursing and clinical practice to equip them with practical skills for healthcare settings (Ghaffari, 2017). However, the BSN curriculum has courses that are not offered in the ADN program. The courses include management, leadership, critical thinking and communication, public health, social sciences, nursing theories, nursing practice, and specialized courses (Ghaffari, 2017). The ADN program focuses on training clinical skills, while BSN focuses on management, leadership, nursing research, and also clinical skills.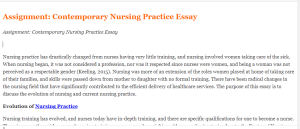 ADN and BSN nurses have similar tasks in the healthcare setting, such as providing direct patient care, administering treatment, and monitoring patients (Ghaffari, 2017). However, the scope of practice is a bit different, and the ADN nurse is not qualified for some roles that t require one to have additional education such as nurse educator, hospital unit coordinator, and managerial position.
An example of a patient care situation would be a patient with a history of hypertension and diabetes who present with a persistently high blood pressure despite taking antihypertensive medication. A physician then prescribes an intravenous antihypertensive, and the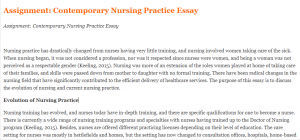 ADN nurse will prescribe the medication to the patient since they are trained on clinical skills and may not provide health education, which is key in managing hypertension. On the other hand, a BSN nurse will take a comprehensive patient history to identify the current medication the patient is taking, previous history of hypertensive crises, family history of chronic illnesses, and social history. The history will help in understanding why the blood pressure is not controlled by medications and the patient's behaviors that could be worsening the condition.  The BSN nurse will be able to take the role of the nurse educator and educate the patient on lifestyle modification to help lower blood pressure and prevent complications of hypertension (Ghaffari, 2017).  Furthermore, the BSN nurse will advocate for the patient to be initiated on lipid-lowering medications to avoid cardiac complications since the patient is at risk of atherosclerosis due to a history of diabetes.
The Significance of Applying Evidence-Based Practice to Nursing Care
Evidence-based practice (EBP) has developed over the years to be the gold standard of care and significantly influenced the BSN program. EBP involves taking into consideration the latest healthcare research when deciding the course of treatment and nursing care (Kalb et al., 2015). The adoption of EBP in nursing care has had an impact in promoting better health outcomes in patients. EBP has helped lower complications and morbidities associated with chronic illness, and in lowering healthcare costs (Kalb et al., 2015). The BSN program has incorporated EBP in the curriculum, and it supports the adoption of EBP by focusing on increasing students' knowledge and professional accountability (Kalb et al., 2015). Besides, the program emphasizes scientific research to guide in deciding the best interventions for patient care. BSN students are trained in nursing research and are familiarized with research methodologies that equip students with EBP research skills.
Interdisciplinary Communication and Collaboration in Nursing Practice
Interdisciplinary teams in healthcare include physicians, nurses, pharmacists, and other health care professionals. The team works together in decision-making and problem-solving to prepare patients' care plans (Gausvik et al., 2015). Nurses communicate with the interdisciplinary teams through several tools such as the situation, background, assessment, and recommendation (SBAR) and during Structured interdisciplinary bedside rounds (SIBR). The SBAR tool is used to briefly communicate a patient's condition, assessment findings, the current plan of care, and recommendations (Gausvik et al., 2015). The SIBR is a validated structure that enhances interdisciplinary communication by bringing together health professionals at the patient's bedside. The SIBR allows the health team to interact and provides the chance for members to give opinions on how to best improve patient outcomes (Gausvik et al., 2015). Interdisciplinary communication and collaboration help improve patient outcomes, reduce medication errors, lower healthcare costs, and improve interactions with members of other disciplines.